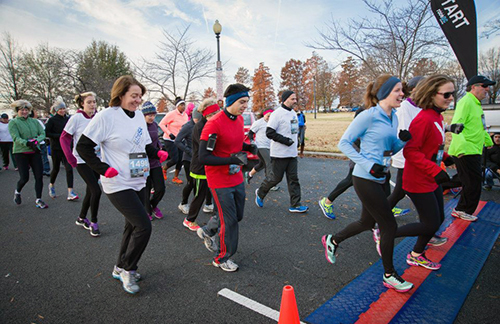 NCBA CLUSA will join other corporate and individual sponsors in the Washington, D.C. area next month for the Cooperative Development Foundation's 26th Annual Co-op 5K.
The race regularly draws hundreds of participants and supporters from the local co-op community and helps kick off Co-op Month. This year, runners, joggers and walkers will meet at East Potomac Park on Saturday, October 4 for the event.
Click here to register for the race!
The Co-op 5K serves as a major fundraiser for the Cooperative Development Foundation (CDF), a non-profit foundation with a national and international focus on community, economic and social development through cooperative enterprise.
Leslie Mead, executive director of CDF, said the foundation is grateful for its 2014 sponsors, particularly the National Cooperative Bank—a "longtime and generous supporter of the event," she said.
The race itself, Mead added, is "a terrific opportunity for staffs of the Washington, D.C.-based cooperative organizations to get together on a fall morning to exercise and socialize outside of work."
Proceeds benefit CDF's family of cooperative development funds, support partnerships and outreach that promote and enhance cooperative development and reduce the administrative cost of CDF's operations, Mead said.
"The race is family- and dog-friendly, and we encourage participants to come out and jog or walk if they don't want to run," said Cassandra Durand, events coordinator for CDF.
"All participants are eligible to win one of our random prize drawings, regardless of how fast they complete the 5K," Durand added.
Participants will also find complementary breakfast foods, coffee and juice served from 7:30 to 10 a.m.
Virginia Bunker, team captain for NCBA CLUSA's team, "Non-Stop Co-op," said registering for the Co-op 5K was an easy decision.
"I've been an avid runner for years, but what makes this race so special is that I get to do it with my coworkers who have become family," Bunker, who serves as NCBA CLUSA's international executive assistant.
"This race is a great way to spread the word about CDF's mission and celebrate the amazing work being done by cooperative development organizations to promote economic empowerment in the U.S. and around the world," she added.
NCBA CLUSA is a bronze-level sponsor of the Co-op 5K.