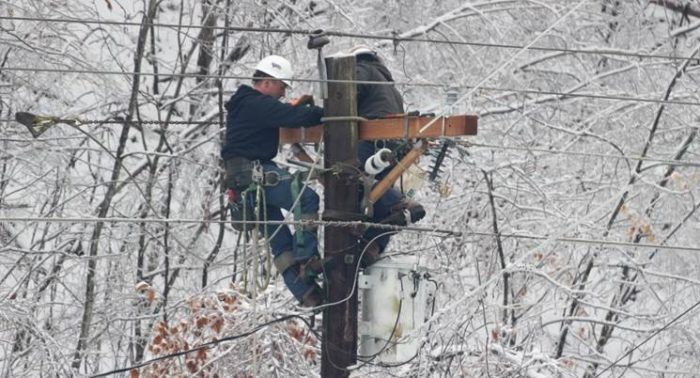 Warmer weather and access to reliable generation combined with determined efforts of utility crews helped restore power to millions of consumers, including electric cooperative members in several states.
"There's enough generation capacity online to meet consumers' demand here in Texas now, and we don't have to worry about interrupted power anymore," said Will Holford, manager of public affairs for Bluebonnet Electric Cooperative.
The Bastrop-based distribution co-op was among dozens of Texas co-ops subject to emergency measures put in place by the Electric Reliability Council of Texas. ERCOT manages the electric grid for 26 million Texans served by co-ops and investor-owned and municipal utilities.
As frigid winter temperatures pushed through much of the state Sunday, demand for electricity outstripped available generation, and emergency measures led to a combination of extended service interruptions and rolling blackouts.
"We had relatively few weather-related outages on our distribution system," said Holford. "From early Monday morning through Tuesday afternoon, our members were experiencing 'power on' intervals of 10 to 15 minutes and managed outages of up to 45 minutes."
Bluebonnet's crews continued making repairs to damaged lines, and member services representatives, working from home under the co-op's pandemic mitigation plan, fielded calls even as they faced the same disruptions as the co-op's members.
"We did all we could to keep members informed. Our call center lines were staffed, and we used our website and all our social media channels to keep them up-to-date," said Holford.
Severe winter weather has affected much of the country this week, with widespread power outages reported in parts of the Pacific Northwest, the Midwest, the South and the Mid-Atlantic regions.
After completing restoration work in their own territories, five Arkansas co-ops, including the statewide association's construction division, pulled out Friday to help co-ops in Mississippi repair damage to power lines and other equipment.
Lorman-based Southwest Electric Power Association is working to restore service to more than 16,000 of its 25,000 meters. Yazoo City-based Yazoo Valley EPA reported more than 7,500 of its 10,300 meters out of service late Wednesday and was continuing repairs to restore power to about 2,000 meters Friday.
"We've still got 49,000 meters out, down from 110,000 statewide early Thursday," said Ron Stewart, senior vice president of communications at the Electric Cooperatives of Mississippi.
"Central Electric Power Association based in Carthage still has about 12,000 meters out," said Stewart. "We're also getting help from Alabama crews in the service territory of Southern Pine Electric, based in Taylorsville, where 9,000 meters are still out."
In Kentucky, more than 1,000 line technicians, tree-trimmers and mutual aid workers were expected to be busy this weekend working to repair damage affecting about 40,000 co-op-served meters.
Mutual aid crews from Kentucky, Georgia, Alabama and Indiana have about 325 co-op and contract personnel committed to restoration work in Kentucky.
Kentucky-based United Utility Supply Cooperative prepositioned poles, crossarms and other essential hardware in the state in preparation for this week's severe weather. Vendors and other members of the co-op-focused Electric Utility Distribution Association have been alerted to provide additional materials if needed.
"The scope and scale of the damage suggests a prolonged outage," said Chris Perry, president and CEO of Kentucky Electric Cooperatives, adding that power restoration would take several days. "Our cooperatives greatly appreciate the understanding of co-op consumer-members. Know we are working as quickly as we safely can."
Derrill Holly is a staff writer at NRECA.