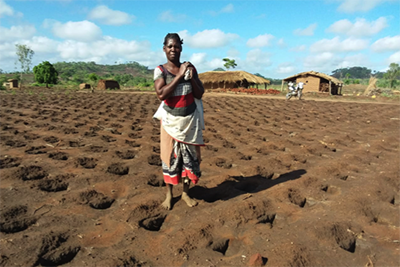 As world leaders meet this month in Glasgow, Scotland for the 2021 United Nations Climate Change Conference (COP26), the stakes could not be higher, and cooperatives are stepping up as a global community to show leadership on climate action and work toward environmental justice.
Cooperatives bring together a significant portion of the nearly 500 million smallholder farmers around the world who produce the majority of food in many countries. With their focus on equitable climate action, co-ops are effective in mobilizing these critical stakeholders, many of whom are women and youth.
Those efforts are being recognized. Last year, as part of International Day of Cooperatives observances, a policy brief showed how co-ops are taking urgent action to mitigate climate change and its impacts. In her COP26 remarks last week, U.S. Agency for International Development (USAID) Administrator Samantha Power affirmed the United States' commitment to conservation, citing as an example the USAID-funded Mikajy project in Madagascar, where NCBA CLUSA conserves biodiversity and combats deforestation in its work with vanilla cooperatives.
Mikajy and similar projects are showing that communities don't have to "choose between the welfare of their people and the health of their environments," Power said. "They can have both." Vanilla farmers like Razafy Methodien, who participates in Mikajy, are able to earn a living without harming their environment.
During his remarks at the 2021 Cooperative IMPACT Conference in October, Deputy Assistant Director for USAID's Bureau for Resilience and Food Security Michael Michener lifted up cooperatives as a model for building sustainable, resilient communities in the face of shocks and stresses like climate change. "Preparing for a more volatile world is absolutely critical," he said, adding that cooperatives are uniquely poised to tackle big challenges. "Cooperatives are what people do together—things they couldn't possibly do on their own," Michener said.
At NCBA CLUSA, we believe the cooperative business model is a key strategy to both mitigate climate change and adapt to its impacts. With their track record of bold, collective action that places people and planet before profits, cooperatives must be an integral part of any strategy to protect our plant—especially if we value equitable climate action.
During our 65+ years of international development, NCBA CLUSA has demonstrated the ability to establish and strengthen the human systems necessary to manage complex natural resource systems—particularly in agriculture. Through our Nature, Wealth and Power framework, NCBA CLUSA integrates climate change mitigation into our development work. "Nature" refers to the natural resources upon which all life depends; "wealth" applies to the sustainable livelihoods and economic benefits that can be derived from those resources; and "power" relates to their management and governance. This whole-of-system approach leads to community development that is financially, socially and environmentally sustainable.
Keep reading to learn more about some of our climate interventions—past and present.
Madagascar: Sustainable Vanilla for People and Nature (2020-2023)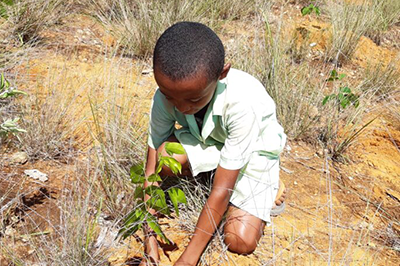 Sustainable Vanilla for People and Nature (SVPN), a three-year, $3 million activity co-financed by USAID and McCormick, is part of USAID's Conservation and Communities Project (CCP). The SVPN Activity is designed to conserve biodiversity, avoid deforestation and improve farmers' livelihoods through sustainable vanilla production in the Sava and Analanjirofo regions of Madagascar. The SVPN alliance will increase production of high quality, sustainably produced vanilla that improves the resilience of farmers and their families to climate change, market volatility, and other shocks such as COVID-19. Our approach includes creating a health insurance system, improving access to savings and loans, and strengthening cooperative businesses to augment the income of farmers and create economic opportunities. These efforts will reduce threats to biodiversity, counteract deforestation, improve natural resource management, reduce greenhouse gas emissions, and enhance the well-being of farmers and their families.
El Salvador: Coffee Rehabilitation and Agriculture Diversification Project (2014-2019)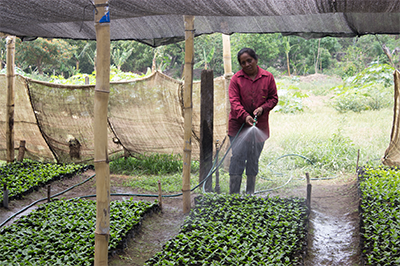 Through this $12.9 million USDA-funded project, NCBA CLUSA increased El Salvador's coffee value chain productivity by improving agricultural techniques and technologies. The project also encouraged smallholder coffee producers to diversify into additional value chains to even cash flow. The project's low-cost production system ensured that farmers could afford to renovate and rehabilitate their coffee plantations using organic fertilizers and native shade trees. Access to knowledge of soil and water management, use of organic materials, and climate-smart agricultural practices improved soil structure and water retention, and mitigated the effects of climate change. The project supported more than 7,500 coffee producers, 50 producer organizations and cooperatives, government agencies, and the private sector across El Salvador's six coffee producing regions.
Indonesia: Sustainable Cooperative Agribusiness Alliance (2017-2020)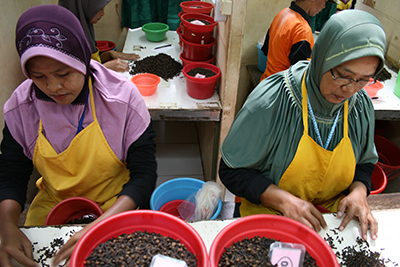 The USAID-funded Feed the Future Indonesia Sustainable Cooperative Agribusiness Alliance (SCAA) was a Global Development Alliance (GDA) led by NCBA CLUSA in partnership with Cooperative Business International (CBI Global), PT AgriSpice Indonesia, McCormick and Company, PT CBI Indonesia and the KSU Nimboran Kencana Cooperative. SCAA aimed to create long-term and sustainable smallholder farmer livelihood opportunities through agribusiness ventures by working with proven private sector entities in the rural provinces of Papua and South Sulawesi. SCAA's partnerships with international and national agribusiness firms, successful Indonesian cooperatives and government research organizations provided important linkages between the project farmers and buyers, processors and markets for their agricultural products. These partnerships guaranteed that project farmer groups had access to markets and ensured that they were offered viable market-based prices. This approach enabled farmer groups and communities to produce and sell high-value products and increase incomes in a sustainable way.
Haiti: USAID Reforestation Project (2017-2022)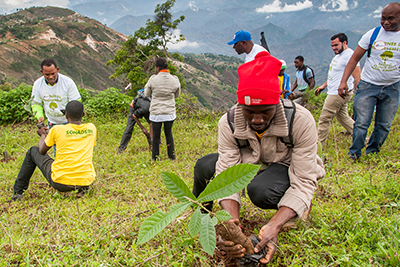 The goal of the USAID-funded Reforestation Project (URP) is to increase forest and perennial tree cover in Northern Haiti to restore and improve the provision of environmental services and support food security and resilience. This project focuses on four main objectives: 1.) Reduce the threat of deforestation, 2.) Improve resilience to economic and natural shocks, 3.) Increase tree cover in targeted areas and 4.) Improve environmental governance and coordination. NCBA CLUSA is a subcontractor to Chemonics International in this work. As part of the project's efforts to promote agroforestry and reforestation efforts, NCBA CLUSA works with local cooperatives and enterprises in key high-value value chains such as coffee, cacao, mango and honey to increase and diversify production and incomes. NCBA CLUSA also facilitates community participation to create a vision around watershed management and resilience.
Madagascar: Mikajy (2018-2023)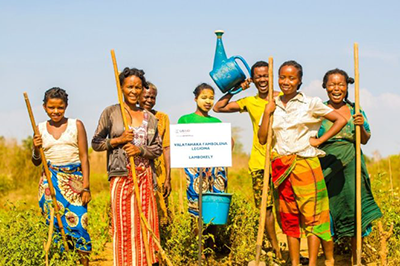 The USAID Mikajy activity is designed to advance biodiversity conservation in forest and coastal ecosystems, strengthen natural resource management and land tenure security among vulnerable populations, and promote sustainable economic growth in rural communities in the Menabe and MaMaBay landscapes of Madagascar. The USAID Mikajy Activity fosters sustainable and inclusive economic growth by linking biodiversity conservation and improved natural resource management with sustainable livelihood development. As a subcontractor to Tetra Tech ARD, NCBA CLUSA leads activities to support community-based, conservation-friendly enterprises and livelihoods in both landscapes. In FY19, NCBA CLUSA's MaMaBay activities focused on cooperative development and implementation of the Rainforest Alliance (RA) certification standards in the vanilla sector. RA certification includes a significant WASH component (village hygiene, protection of water sources and waste management), biodiversity conservation (including the protection of fauna and flora), and a focus on gender, youth and climate adaptation.