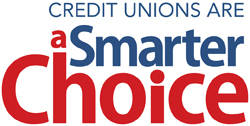 Financial Literacy Month activities will continue Wednesday, April 29 with a Twitter chat hosted by aSmarterChoice and NerdWallet on the future of saving.
The chat is scheduled to run from 3 to 4 p.m. EDT and credit unions are encouraged to participate.
Participants are invited to share their thoughts on ways to encourage more savings among younger populations, how mobile technology will impact savings in the future and ways credit unions can assist their members in planning for the future.
Those interested in participating can follow @aSmarterChoice and @NerdWallet, or use the hashtag #FutureofSaving
aSmarterChoice.org is a joint project of the Credit Union National Association and the American Association of Credit Union Leagues. It is aimed at helping create consumer awareness of credit unions and building membership.
Financial literacy contributors such as Tarra Jackson (@MsMadamMoney), Ashley Jacobs (@Wisebread), @AmericaSaves and @TheCentsables will attend the chat.