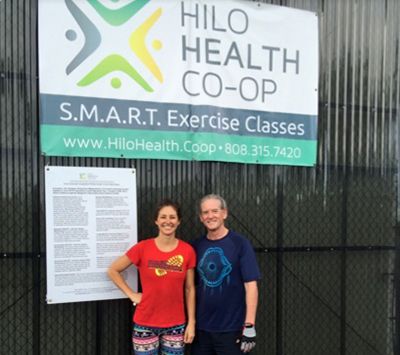 There's a reason getting in shape is a ubiquitous New Year's resolution. The benefits of exercise run the gamut from more energy to fewer doctor's visits. But what if you got paid to exercise? That added incentive is a reality for member-owners of the Hawaii-based Hilo Health Co-op, the nation's first cooperative fitness center and a new NCBA CLUSA member.
Hilo Health incorporated in March 2014 and, a few months later, acquired an existing CrossFit gym. After a shaky transition that included the business owner leaving town, co-founder Grif Frost, who now serves as president and CEO, stepped in full-time to find a way to salvage the business.
"Without the support of our cooperative member-owners, the business would have failed," Frost says. "We all pulled together and found a way to evolve Hilo Health using a much better business model with huge potential to do good."
Hilo Health isn't Frost's first startup. A self-described "serial entrepreneur," he has started, built and sold more than 40 businesses in Japan and the U.S. The cooperative business model was a natural fit for Hilo Health.
While researching Hawaii's business regulations, Frost discovered that consumer co-ops can legally offer "exempt securities" to customers, who then become shareholders. "A CEO is always having to figure out ways to raise cash to support business development," Frost said. "Being able to offer exempt securities helped solve that challenge."
Additionally, Frost said, organizing as a co-op meant Hilo Health planned strategically and transparently from the onset. Convincing prospective customers to become member-owners "absolutely requires you to have a very good business plan and then 'walk the talk,'" he said.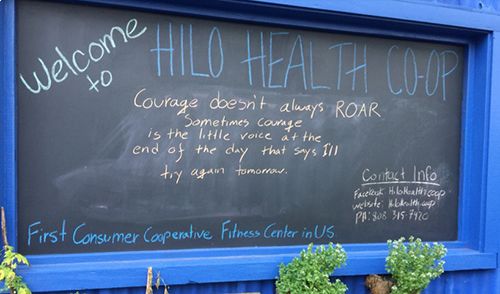 "Working with others—and I recommend starting with a small group of three to five people—is a great way to develop a business plan," Frost said. "Everyone does something well, which, when you add it all together, can create a solid foundation to launch a cooperative business."
Shortly after its launch, a partnership with an area physicians' association boosted Hilo Health's profile in the community. Local doctors were looking for a fitness center they could recommend to their patients and were intrigued by the cooperative business model. With a new fitness program tailored to meet recommendations set by the East Hawaii Independent Physicians Association, Hilo Health membership grew steadily to 120 within the year, Frost said.
"Many people in the community are looking to achieve optimum health through exercise, but are intimidated by the thought of going to a gym," Frost said. Working with the medical doctors, Hilo Health created a S.M.A.R.T exercise programs for beginner, intermediate and advanced-level students in a positive, supportive environment.
"That means no mirrors, no competition and trackable results," Frost said. "Plus, Hilo Health comes recommended by your doctor, who very likely is also a member!"
Hilo Health is currently working with Hawaii's largest insurance agency to ensure that its S.M.A.R.T. exercise classes are eligible for reimbursement if prescribed by a medical doctor as an alternative to prescription drugs that lower cholesterol, blood pressure or blood sugar. "Keeping people out of hospitals is a huge financial win for health insurance companies," Frost said.
When they join, member-owners undergo an initial optimum health assessment to determine their class level. Quarterly report cards and a mentorship program help members stay on track at Hilo Health's 4,300 square foot open-air facility. For busy parents, childcare is available three times a week. Community members who don't join the co-op are welcome to participate in Hilo Health's fitness programs, but they also aren't paid to exercise.
Hilo Health's goal, Frost said, is to grow to 250 members, further refine the cooperative fitness center model and then teach other entrepreneurs to start similar small co-op fitness centers in their own communities. The ultimate goal for members is to not only improve their own health, but help others thrive, Frost said.
"Hawaii is a great place to come for a three-day seminar to learn how to start your own consumer cooperative fitness center. Takes a lot of arm-twisting, though," he jokes.