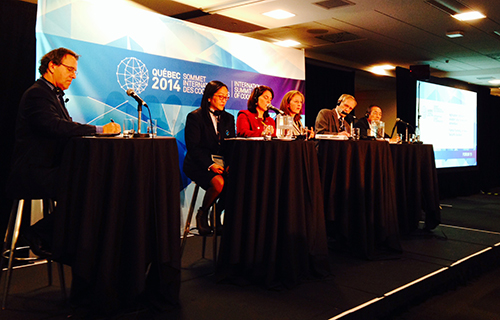 NCBA CLUSA's COO for International Development Amy Coughenour shared a unique perspective on smallholder farming at the 2014 International Summit of Cooperatives' panel on family farming and food security last week.
Bringing vulnerable smallholder farmers into the global economy, Coughenour said, depends on the integration of four distinct pillars of food security—availability, access, utilization and governance—not on an increase in commercial farming alone.
The conversation came during a year the United Nations named the "International Year of Family Farming," an endorsement of a seemingly simple model of agriculture that is anchoring sustainable production and food security going forward, panelists said.
"We cannot address the stunting, malnutrition and food security needs of smallholder farmers with a purely economic growth strategy around agribusiness and large-scale commercialization of staple crops," Coughenour said. "We have to incorporate the pillars of food security through smallholder farmers."
NCBA CLUSA works to increase the availability of diversified foods smallholder farmers require to meet the nutritional needs of their families, using strategies such as conservation farming and nutrition-led agriculture. One project in Senegal highlights Vitamin A and other micronutrients found in orange-colored fruits and vegetables.
Access involves both securing the income to purchase food and establishing networks to ensure its distribution, Coughenour said. NCBA CLUSA increases the asset base of smallholder farmers by diversifying incomes and increasing access to financing and new technology.
Utilization, Coughenour continued, is a measure of how food is consumed at the smallholder farmer level and how it is integrated into the family's diet, which largely hinges on the empowerment of women.
"Women play a critical role in producing food, purchasing food, preparing food and ensuring their children's nutrition," she said. "We need to focus on nutrition education for women in order to impact stunting and underweight in women of childbearing age and children under five."
Hygiene training and access to sanitation should be coupled with nutrition education, Coughenour said.
"All of these elements on the utilization side are essential, because if you're improving the diets of the families, but you're not addressing the lack of potable water or the lack of sanitation, the uptake of those nutrients isn't going to achieve your purpose of decreasing malnutrition," she said.
The fourth pillar of food security, governance and stability, is unique to NCBA CLUSA. The organization bolsters its food security and nutrition programs by engaging citizens and governments to work together to plan and budget priorities and services.
Here, too, women are "powerful advocates at the local level," Coughenour said.
The formation of cooperatives plays a major role, she continued, and are the "vehicle" for the smallholder farmer to access new farming technologies, better resources for distribution and storage and finance. Co-ops also allow family farmers to negotiate better prices.
"Co-ops are playing an absolutely vital role in scaling up the kind of strategies that are working at the smallholder farmer level," Coughenour said.
Smallholder farmers are at the core of NCBA CLUSA's food security work in 16 countries in Africa, Latin America, the Caribbean and Southeast Asia.
Coughenour spoke during a panel also featuring Nora Ourabah Haddad, team leader of Producer Organizations and Cooperatives for the Food and Agriculture Organization (FAO) in Italy; Roger Johnson, president of the National Farmers Union; Sumalee Thongteera, general manager of Thailand's Lam Phra-Phloeng Agriculture Cooperative; and Toru Nakaya, vice president of the Central Union of Agriculture Cooperatives in Japan.
The 2014 International Summit of Cooperatives, held bi-annually, brings together hundreds of experts and more than 3,000 participants from 42 countries who share their knowledge on innovation in sustainability, development, employment, food security and economic recovery.