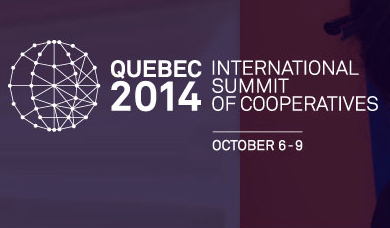 The "Blueprint for a Cooperative Decade" envisions that by 2020, co-ops will be the acknowledged economic leader, the preferred business model and the fastest-growing enterprise worldwide, but gaps in co-op-specific legislation and education remain a concern for cooperative leaders in the U.S.
At a workshop led by NCBA CLUSA on Monday afternoon at the 2014 International Summit of Cooperatives in Quebec City, Canada, attendees discussed ways to clear these hurdles to cooperative development.
One challenge is an inconsistent legislative framework for cooperative development. Currently, approximately half of the states in the U.S. have co-op statutes.
The state of California is currently considering the Limited Liability Worker Cooperative Act—worker co-op legislation that would create a new business entity in the state catering to the needs of worker-owned, democratic businesses—"one of the best worker co-op statutes on the books," said Esteban Kelly, co-founder and Steering Committee member of the Philadelphia Area Co-op Alliance and NCBA CLUSA Board member.
The bill is part of a growing movement in the state to create jobs and spur economic growth by supporting small businesses that are democratically owned and operated by their workers.
Nationwide, both incorporation legislation and "enabling legislation" are needed to create a legal environment conducive to cooperative growth, said Jessica Gordon Nembhard, a political economist and associate professor of Community Justice and Social Economic Development in the Africana Studies Department at the John Jay College, of the City University of New York (CUNY). Nembhard is also the author of "Collective Courage: A History of African American Cooperative Economic Thought and Practice."
Favorable legislation could revolutionize the cooperative movement in the Southern U.S., workshop attendees said, where, in the absence of cooperative statutes, co-ops typically incorporate as non-profits. When such co-ops dissolve, however, assets go to another non-profit, rather than the community, which is crucial to wealth creation, said Cornelius Blanding, director of Field Operations and Special Projects for the Federation of Southern Cooperatives and an NCBA CLUSA Board member.
Southern states are also right-to-work states, Blanding said, which prohibit agreements between labor unions and employers. To the uninitiated, co-ops are often feared as an "entry point" to union activity, he said, further complicating cooperative development.
Kelly said U.S. co-op leaders should take a cue from the recent 2014 UN Climate Summit, during which heads of state from island nations—those most vulnerable to climate change—assumed a leadership role.
"A national solution for co-op law should come through the South," Kelly said. "If we can figure out Jackson, Mississippi, we will have a solution that will work in Vermont and everywhere else."
Workshop attendees agreed that a 50-state approach—something NCBA CLUSA President and CEO Mike Beall called "vital"—would ideally come from a coupling of state and federal efforts, with a grassroots approach supplemented by NCBA CLUSA's advocacy work at the federal level.
Jerry McGeorge, vice president of Cooperative Affairs for Organic Valley and chair of NCBA CLUSA's Board of Directors, called for a comprehensive, state-by-state review of legal realities to determine "core pieces of good co-op statutes" that could be adopted by other states, resulting in "clearer and more consistent statutes" nationwide.
One way to get on the radar of legislators is to "lead with the economic benefit of co-ops," McGeorge said, adding that job creation and other economic activity can counteract any misconceptions surrounding cooperatives.
Workshop attendees also tackled the need to strengthen cooperative education.
Dan Arnett, general manager at Central Co-op in Seattle, Washington, and board director at SLICE (Strengthening Local Independent Co-ops Everywhere), said his group's discussion could be culled into three overarching themes: research, leadership and community impact, which would ideally include a national ad campaign for co-ops and TED talks on relevant, even "provocative," issues.
The gap in accurate, current data and research about co-ops should be filled by an online library or archive, attendees said.
"If we make credible information on co-ops more easily accessible, it's more likely to be included in academic curricula," Arnett said.
Pat Sterner, NCBA CLUSA's COO, underscored the value of "stewardship," or archiving current, accurate information about co-ops. "It's critical for us to establish a baseline of what we know and don't know about cooperatives," she said.
Another priority, Arnett added, is to support existing programs that have proven impact, such as the University of Wisconsin's Center for Cooperatives, and get more people "involved and engaged."
Nick Francesconi, representing co-ops in Italy, said cooperative leaders should emphasize the career aspect of the movement as a growth strategy. Shedding light on concrete employment opportunities would appeal to young people entering the workforce and tap into the social entrepreneurship movement in Europe, he said.
Jobs aren't the only draw, however, Kelly said. "People will coalesce around uplifting, sustainable and just economic livelihoods if we really make the case that cooperatives serve the community first and foremost. Anyone can offer you a job or dangle a tax break in front of you, but we're talking about something really different here," he said.
While this social justice approach can and should help broaden the "face" of cooperatives, Beall said, co-ops must ultimately be seen as legitimate and sustainable—not just socially responsible—businesses. "We need the strategy behind the political efforts, because one of the ways to make co-ops more relevant is to make it easier to actually become a co-op in your respective state."
Monday's discussion, along with a similar one held at NCBA CLUSA's Annual Cooperatives Conference last month in Minneapolis, Minnesota, will "inform NCBA CLUSA's strategic planning process going forward," Sterner said.
The conversation is also expected to continue at NCBA CLUSA's upcoming Cooperative Professionals Conference in November, she added.