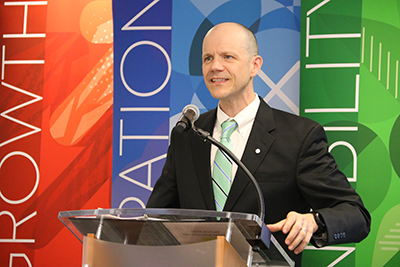 Two weeks ago, we had the opportunity to engage with hundreds of dedicated cooperators during another inspiring Co-op Week. It was energizing to see our members involved in NCBA CLUSA's Annual Membership Meeting and the Cooperative Development Foundation's Cooperative Hall of Fame. These two events amplify the accomplishments of cooperators across the country who are building better, more inclusive economies for their members and communities.
We are in a cooperative moment. As a society, we face critical issues related to inequality, climate change and the changing nature of work, due partly to technology. As challenges abound, the cooperative community has a generational opportunity: to ensure others understand how our member-owned, people-centered businesses can help people work together to solve big problems. History shows us that many cooperatives have gone to scale and transformed economic communities and sectors, including agriculture, credit unions and rural electric cooperatives. I have written at length before on this topic.
People desire greater control of their economic futures. They want to be truly included in their economy. As members of NCBA CLUSA, you know that cooperatives are a key strategy for these goals. As a community, we need to make sure others understand, support and use our business model.
NCBA CLUSA is the only national association that focuses entirely on the cooperative business model. We are dedicated to capturing the cooperative opportunities that abound through advocacy, public awareness, thought leadership and development. We always seek to engage and empower our members—because you are the best advocates for cooperatives.
We always seek to engage and empower our members—because you are the best advocates for cooperatives.
Because our members are the core of our work, we are expanding membership services, improving membership engagement, and adding new members. One major initiative is an ongoing series of Cooperative Policy Roundtables across the nation this year that will culminate in a set of policy recommendations focused on moving cooperatives forward. These recommendations, available after the series in a report published by the Urban Institute, will elevate policies that help people use cooperatives to build more inclusive local economies.
To build on our strong membership base, we announced a new membership referral program called NCBA CLUSA Champions. This program invites current members to reach out to their network of fellow cooperatives, credit unions and mutuals or associations of member-owned businesses that don't already enjoy the benefits of membership with NCBA CLUSA. Find our current list of members here. Any member who refers at least five co-ops, credit unions and mutuals or associations of member-owned businesses to NCBA CLUSA—at least one of which joins the association—will receive a 50 percent discount on one full registration to the 2019 Co-op IMPACT Conference, scheduled for October 2-4 in Arlington, Virginia. Participating members will also be formally recognized during the conference as NCBA CLUSA Champions. For more details, contact Dr. Emilia Istrate, NCBA CLUSA Vice President for Resource Development at eistrate@ncba.coop or (202) 442-2326.
We do all our work on behalf of and in partnership with our members. Here are just a few highlights from the past year:
Advocacy
We helped lead a coalition to pass the Main Street Employee Ownership Act, which directs the Small Business Administration to increase cooperative access to SBA loan programs and technical assistance. We continue work with the coalition—most of whom are members of NCBA CLUSA—to ensure timely and common-sense implementation that supports co-ops. We are also always working to increase appropriations for domestic and international co-op development programs and prepared to defend cooperatives' tax status. Learn more about our advocacy priorities.
Public Awareness
We hosted the 2018 biennial Co-op Festival on the National Mall, where we partnered with 40 co-ops and cooperative associations. More than 20,000 attendees enjoyed live music, sampled co-op food and, most importantly, learned how co-ops are building a better, more inclusive world. Start planning now to join us in Fall 2020 for the next Co-op Festival!
Thought Leadership
We expanded the reach and influence of the Cooperative Business Journal and hosted the 2018 Co-op IMPACT Conference, where 330 leaders from roughly 200 organizations delved into the impact of cooperatives on the economy. We shared best-in-class solutions, including insights from the work of NCBA CLUSA's expert Council of Cooperative Economists.
Join us at the 2019 Co-op IMPACT Conference, which will take place in Arlington, Virginia from October 2-4. This is the only event of the year where co-op leaders from a variety of industries connect, learn, exchange best practices and network with peers from across the nation and around the world. Finally, with support of the Robert Wood Johnson Foundation, NCBA CLUSA and the Cooperative Development Foundation (CDF) published the ABC's of Cooperative Impact, a report authored by the Urban Institute that provides a shared framework for measuring co-ops and their link to healthy, equitable and sustainable communities.
Development
In development, we use the cooperative principles to empower people in 22 countries—benefitting more than 3 million people. In the U.S., we continue to support the cooperative development community to ensure our business model is used by more people in new and innovative ways. For example, we work with CDF and a coalition of cooperatives, thought leaders and government agencies to bring the cooperative business model to the homecare sector.
In 2019, we are focused on highlighting how cooperatives build more sustainable and stable communities. As principled, purpose-driven businesses, cooperatives can better serve their members and communities in enduring ways. As NCBA CLUSA continues leading the cooperative movement in the 21 century, we hope you will add your voice, talents and effort to support our work. Be a part of this generational opportunity!
—Doug O'Brien is president and CEO of NCBA CLUSA, where he works with the cooperative community to deepen its impact on the economy.