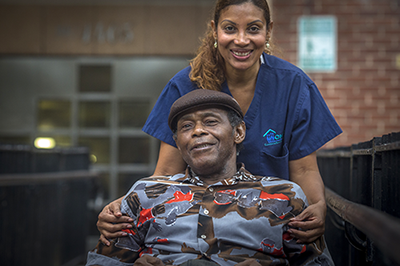 Representatives from cooperative development organizations and worker co-ops met with federal agencies last week to continue a conversation on homecare cooperatives, making the case for strategic investments in this proven business model.
The ten worker-owned home care co-ops currently operating in the U.S. are already transforming the industry—striving to offer fair compensation for meaningful work and reducing employee turnover from 60 to 30 percent annually.
Where last year's subgroup meeting of the Interagency Working Group on Cooperative Development offered a survey of the homecare cooperative landscape, this year's meeting focused on training and partnership opportunities with federal agencies.
Kevin Thompson with the U.S. Department of Labor, Lori Gerhard with the U.S. Department of Health and Human Services and Claudette Fernandez with the U.S. Department of Housing and Urban Development, each unpacked federal programs and grants that could support homecare cooperatives—from jobs training programs and apprenticeship grants to the Community Development Block Grant Program and the No Wrong Door System. The latter is a national network that helps direct Americans through the maze of services their communities provide—cooperative homecare could be on the list.
Still, the funding streams identified represent a patchwork-style response to a national problem that isn't going away: an aging population. By 2024, the ICA Group estimates that the homecare industry will need to recruit and train 13 million new caregivers to meet demand.
Judy Ziewacz, former president and CEO of NCBA CLUSA and current board member of the Cooperative Development Foundation—which spearheads the Homecare Cooperative Initiative—stressed the need, instead, for a unified, national approach.
"We know our population is aging in rural communities. We want to keep these people in their homes. We know this represents job creation and rural economic activity. As I sit here and listen to you discuss all these little pockets [of funding], I'm struck by, what if USDA said, 'Let's implement a national strategy and find the resources. It's going to be one-stop shop for training, technical assistance and development,'" Ziewacz said.
"If you look at the history of how co-ops solved rural needs, starting with rural electrification, USDA has always been the driver," she added.
Another strategy—still coordinated, but more regional—is to tap into governor-driven initiatives, said Kevin Edberg, executive director of Cooperative Development Services. "I'd look to Washington State, because that's where we have the greatest concentration of homecare worker cooperatives," he said, adding that efforts to get on the governor's agenda could be in partnership with the Northwest Cooperative Development Center with the intention of replicating it nationwide.
The timeframe to identify and implement any regional or national strategy is narrowing, said David Hammer, executive director of the ICA Group. In 2021, baby boomers will start turning age 75 at the rate of 10,000 people a day. By 2030, 10,000 people start turning 85 every day for four years. "We're looking at the biggest demographic shift in our lifetime, and if we don't start thinking about a solution, we're really setting ourselves up."
And so far, investor-driven approaches have failed. Even though homecare companies dominate the franchise market in the U.S., 100 percent of private equity is going to the "tiny slice of people who can afford to pay out-of-pocket," Hammer said. That leaves the 70 percent of Americans who rely on Medicare and Medicaid unserved. With an average reimbursement rate at $16-17 per hour, there simply isn't a viable profit margin.
Even homecare cooperatives serving public pay clients are struggling to provide fair wages for their worker-owners. A homecare worker co-op like Cooperative Care in Wautoma, Wisconsin needs $22 an hour just to break even. That translates to just $9-12 per hour for caregivers. To meet the livable wage benchmark set by the ICA Group—$14-16 per hour—reimbursement would need to be $24-26 per hour.
For the co-op developers in the room, that predicament highlights the need for government to enlist cooperatives to meet the needs of marginalized rural communities. It worked to make farmers more productive by electrifying their farms, and it can work with homecare, Ziewacz said.
"This is an urgent need—keeping our elders in the community not only allows them to age at home, but also keeps their assets in the community and preserves a lot of rural economic activity," she said.