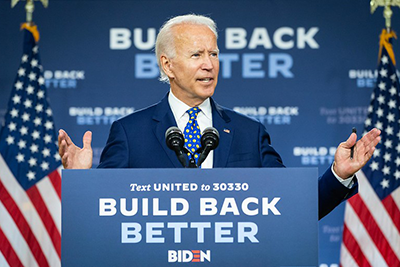 President-Elect Biden's emergency recovery package is a much-needed bold vision for fighting the pandemic and supporting an equitable economic recovery.
NCBA CLUSA is eager to continue our engagement with the incoming Biden Administration and Congress to ensure that cooperatives are not only included, but a key tool for the economic recovery. In the preceding ten months, the US has seen devastating job loss that has disproportionately impacted Black and Latinx women—especially in the caregiving economy. To be deliberate about an equitable recovery, the Biden Administration should ensure that tools are available for people to gain an ownership stake in our economy through cooperatives, resulting in a voice in business decisions and greater job certainty, in addition to the many other benefits that cooperative ownership entails.
The Biden Administration also has a unique opportunity to help revitalize manufacturing communities—often the backbones of their communities but facing unprecedented challenges in a changing economy. Manufacturing closures can be an all too frequent story in small and medium-sized towns across the country that can upend lives and livelihoods. By creating opportunity for cooperatives in this sector, workers and communities will be at the helm of decision-making and can choose business decisions that can help not only ensure the long-term interests of all stakeholders, including making the business more likely to innovate to stay competitive rather than maintaining the status quo to maximize shareholder dividends.
Moreover, as the Administration seeks to 'Build Back Better,' the federal government should invest—and support local investments—in the development, improvement, and maintenance of housing cooperatives to make affordable homeownership opportunities within reach for low- and moderate-income individuals and families. Housing co-ops create opportunity for economic mobility through equity building and stability in the community.
President-Elect Biden's recovery plan also makes important commitments to invest in international development. In our projects around the world, NCBA CLUSA and our partners have adapted to minimize the spread, share public health information and continue to safely drive economic inclusion and growth, but more is needed to help other countries tackle the same battle against this virus that we're fighting in the United States.
NCBA CLUSA looks forward to continuing its advocacy for equitable treatment of cooperatives in federal programs and new, bold investments in cooperatives for people to use this time-tested model to meet the big challenges of today's economy.