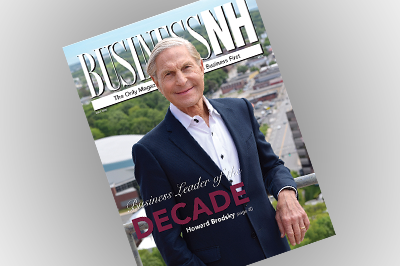 Howard Brodsky, chair and co-CEO of CCA Global Partners in Manchester, was recently named the 2020 Business Leader of the Decade by Business NH Magazine and the NH Association of Chamber of Commerce Executives.
Brodsky is being honored for his visionary leadership in building the second-largest private company in New Hampshire and the 14th largest retail cooperative worldwide. Featured in the magazine, Brodsky is also noted as a champion for family businesses and for helping to roll out the cooperative business model globally. Congressional leaders said Brodsky has brought heart and ingenuity to his work to create permanent, positive solutions to complex societal problems.
"Howard's visionary leadership has helped foster innovation and expand opportunity by supporting entrepreneurs and family businesses across the country through the cooperative business model," U.S. Senator Maggie Hassan (D-NH) said in response to Brodsky's recognition, "Howard always puts people first and in addition to his leadership in the private sector, goes above and beyond to support critical community nonprofits. We are indeed lucky to have him in our state and I am eager to see what he will accomplish next."
Brodsky said he hopes that the award will shine a light on the value of cooperatives and the power they give to independent, family-owned businesses. "While business awards and rankings often favor big corporations with powerful investors, this recognition is proof that business success and strong leadership can live harmoniously with a passion for doing good and empowering others," he said.
"I am certainly proud of this personal recognition," Brodsky continued. "But it is the recognition of a better way of doing business that gives me the most pride and hope for the future. We are combating massive consolidation of businesses and the control Amazon, Walmart and others wield in the marketplace. We believe in leveling the playing field and giving scale to family businesses to ensure that they not only survive, but thrive in America."
Community leaders said Brodsky is a visionary social entrepreneur and a recognized local, national and world leader of shared ownership business models. He most notably co-founded CCA Global Partners, building the organization into a $10+ billion company serving 1 million family businesses and 20,000 childcare centers; recently recognized as the second largest privately held company in New Hampshire, one of the largest retail companies in America, and the fourteenth largest retail cooperative in the world.
Today, CCA Global Partners is the parent company of Carpet One Floor & Home, ProSource, Flooring America & Flooring Canada, The Floor Trader, International Design Guild, Savings4members, The Bike Cooperative, CCA Sports Retail Services, Lighting One, FEI Group, Lionsbridge, Innovia Co-op, and CCA for Social Good. The flooring groups of CCA Global combine to be the largest retailer of flooring in the United States, outpacing Home Depot and Lowe's. All together in his career, Brodsky has founded 22 cooperative companies and nonprofits and served on 23 boards of directors.
Read the full press release from CCA Global Partners.