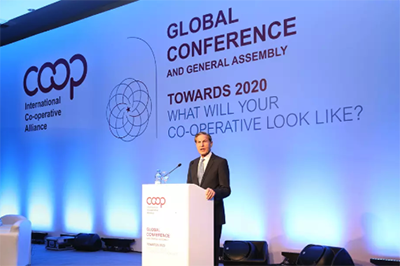 At an awards ceremony last week during the International Conference on Cooperatives in Development in Kigali, Rwanda, Howard Brodsky was named a recipient of the International Cooperative Alliance (ICA)'s 2019 Rochdale Pioneers Award.
The Rochdale Pioneers Award is the highest honor the ICA bestows. Its purpose is to recognize—in the spirit of the Rochdale Pioneers—an individual who has contributed to innovative and financially sustainable cooperative activities that have significantly benefited cooperative members.
Brodsky is co-founder, chairman and co-CEO of CCA Global Partners, one of the largest privately-held companies in the U.S. Brodsky, along with the founding team, is responsible for creating a cooperative retail powerhouse in the marketplace with aggregated sales of over $10 billion.
"Throughout my career, I have felt that businesses should be more than profit centers. While profit is important, it is equally, if not more important that businesses be a force for good," Brodsky said in a press release. "The cooperative business model epitomizes capitalism with a conscience. A more inclusive future is in our grasp. Shared ownership advances shared opportunity, shared wealth, and ultimately shared hope."
"I am honored and humbled by this recognition." he added.
A pioneer of the cooperative business model, Brodsky dedicated his career to helping entrepreneurs build successful businesses by providing the scale, resources and innovation that they needed to compete in an evolving marketplace. In 1984, he co-founded CCA Global Partners, bringing scale to entrepreneurial family businesses by creating an international enterprise of 15 unique cooperative businesses across multiple sectors of the economy from home furnishings, business services and sports retail stores to childcare, nonprofits and more. Together, they serve 1 million small businesses in four countries and 20,000 childcare centers across America.
In 2009, Brodsky was inducted into the Cooperative Hall of Fame alongside his business partner Alan Greenberg for their work to empower independent businesses. By creating a unique, flexible business model that can adapt across industries, markets and countries, they helped cooperatives achieve scale and compete with large chains, yet preserve the service of a local business.
In addition to his innovative and visionary leadership at CCA Global, Brodsky is the founder of Cooperatives for a Better World (CFBW), a not-for-profit dedicated to sharing the benefits of shared ownership and the cooperative business model. CFBW has partnered with cooperatives in 14 countries, reaching over a quarter of the world's population.
Also receiving the 2019 Rochdale Pioneers Award is Kim Byeong-won, chair of the National Agricultural Cooperative Federation (NACF) of the Republic of Korea.
Previous winners of the Rochdale Pioneers Award include former Co-operative Union Chief Executive Lloyd Wilkinson; former Co-operatives UK Chief Executive and ICA President Dame Pauline Green; and the Plunkett Foundation. Recipients are selected by an ICA board-appointed committee.