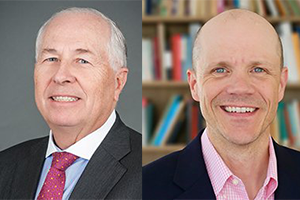 Tune in to WOL 1450 AM or listen online on May 28, at 10:30 am EDT, for Everything Co-op. As the show continues its focus on the COVID-19 pandemic, host Vernon Oaks will interview two leaders in the cooperative community—National Cooperative Bank President Charles E. Snyder and NCBA CLUSA President and CEO Doug O'Brien. Vernon and his guests will discuss how their organizations have responded to the pandemic, and the role they feel cooperatives can play as businesses establish recovery plans to reemerge in a post COVID-19 world.
Charles E. Snyder is the Chief Executive Officer of National Cooperative Bank (NCB) and leads its Executive Council, a team of senior managers representing business development units and functional areas across the company. Mr. Snyder joined NCB in 1983 as corporate vice president and chief financial officer. In 1992, he was named president and chief executive officer.
Mr. Snyder serves on the board of the Consumer Federation of America and the American Bankers Association Foundation. He previously served on the NCBA CLUSA Board of Directors. In 2011, Mr. Snyder was inducted into the Cooperative Hall of Fame and in 2007 received the Jerry Voorhis Award, the National Association of Housing Cooperative's most prestigious honor. Both awards recognize Mr. Snyder for his longstanding work of promoting and preserving cooperatives.
Doug O'Brien is President and CEO of NCBA CLUSA, where he works with the cooperative community, both domestically and internationally, to deepen its impact on individuals and communities. NCBA CLUSA is the primary voice for cooperatives in the U.S. that use the cooperative business model to empower people in their businesses and communities. Doug has been with NCBA CLUSA since 2016, where he served as the Executive Vice President of Programs before becoming President and CEO in January 2018.
Prior to coming to NCBA CLUSA, Doug led the work of the White House Rural Council and served in top positions at the U.S. Department of Agriculture Rural Development, a community economic development agency with over 40 programs and 5,000 employees that annually finances more than $30 billion dollars. Doug has also worked in the U.S. Senate, U.S. House and for two governors. His experience in academia includes teaching, researching and writing at the University of Arkansas Agricultural and Food Masters in Law Program and Drake University Law School.