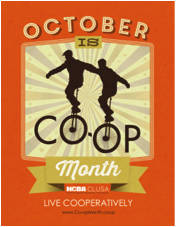 WASHINGTON, DC — In honor of Co-op Month, The National Association of Housing Cooperatives (NAHC) has produced a weekly radio broadcasts featuring various cooperative leaders. This week NAHC president Vernon Oakes interviews Mike Beall, president of the National Cooperative Business Association CLUSA International (NCBA CLUSA).
This interview will take place live this Thursday, October 24 on WOL 1450 AM, in the Washington, 
DC market. The interview will focus on NCBA CLUSA's unique and highly successful contribution to international development through cooperative principles, conducting development projects in 15 countries around the world.
Thus far, the series has highlighted alternative forms of housing offered through cooperative solutions, financing, best practices, scattered site cooperatives and new initiatives. The Grand Finale will be a live broadcast, in Seattle Washington, on the site of NAHC's 53rd Annual Conference, "Cooperative Housing Threads the Needle of Change." The show is streamed live and is being sponsored by National Cooperative Bank (NCB). The entire series will be available on NAHC's website when it concludes.
Listen and support Co-op Month! Visit www.NCBA.coop to download your Co-op Month poster and join the celebration!
The National Cooperative Business Association CLUSA International (NCBA CLUSA) is the apex association for cooperative businesses in the United States and an international development organization. NCBA CLUSA provides cross-sector education, support, and advocacy that helps co-ops thrive. For nearly 100 years NCBA CLUSA has sought to advance and protect cooperative enterprises, highlighting the impact that cooperatives in bettering the lives of individuals and families. In the last 60 years, NCBA CLUSA has grown its international development portfolio to over $34 million of active programs in 15 countries.####