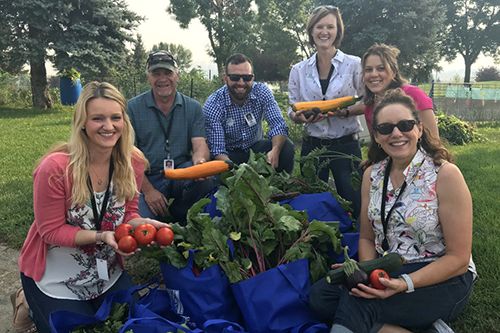 Employees at Basin Electric Power Cooperative are tapping into North Dakota's rich agricultural heritage as part of their commitment to help fight hunger in communities around Bismarck.
A community garden on the generation and transmission cooperative's headquarters campus is managed entirely by co-op volunteers and produces hundreds of pounds of fresh produce for area food pantries each year.
"We plant the garden right around Memorial Day. I start working with our facilities staff to determine needs for the year in April," said Tracie Bettenhausen, a senior staff writer/editor in Basin Electric's Communications department.
Bettenhausen holds an organizational meeting in the spring as soil temperatures edge toward planting range. About 35 employees are involved in the project, now heading into its fifth year.
"I ask in that kickoff meeting if there's anything new we want to try," Bettenhausen said. "I do crop rotation to make sure the plants will get and give good nutrients into the soil, and map it out."
Taking full advantage of the area's four-month growing season, the plot is managed organically. Grass clippings are spread to improve the soil. Weeding is split up among the volunteers who pitch in during lunch breaks and before or after work as needed.
"I've enjoyed it in the past and plan to take part again next year. I participate in the garden because it's a nice way to clear the mind for a few minutes," said Anine Merkens, a Basin Electric staff attorney. "I'll still try to make it out this fall if there is still work to do."
"Getting out in the fresh air and doing something physical is therapeutic for me," said Angela Magstadt, a Basin Electric staff writer. "It gives my brain a rest and I feel rejuvenated when I come back to work."
The overall project was launched in 2014 as the cooperative's staff looked for ways to strengthen camaraderie. Initially envisioned as a team-building activity, within months it became a living example of the seven cooperative principles.
"Donating the food shows our commitment to community, there's democratic member control over what we plant, voluntary participation, and we've brought groups of kids to the garden to teach them about growing food," Bettenhausen said.
"There's also cooperation among cooperatives in that we brought the food co-op to the garden to have events to help grow their member numbers," she added.
Among the design changes that have occurred over four seasons are expansion of the plot to handle more vining crops and test plantings of different varieties of produce.
"My garden at home is basically two tomato plants in a planter. But here, I get to raise fun things like celery and Swiss chard," said Erin Huntimer, a project coordination representative in Basin Electric's Communications department.
Since 2014, nearly 3,000 pounds of fresh produce has been distributed to Bismarck area food pantries in 33 separate donations.
"Often people who are in need get food that isn't always the healthiest," Magstadt said. "To be able to play a part in getting them things that are good for them is a great feeling."