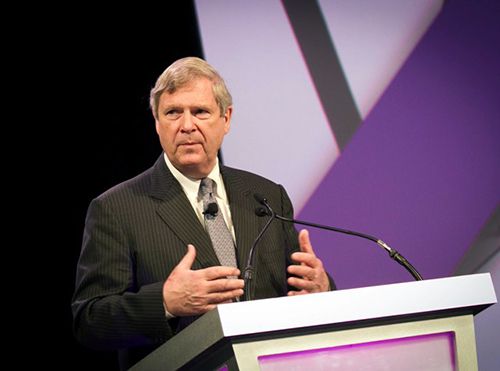 During remarks at the National Rural Electric Cooperative Association's 2016 Annual Meeting, Agriculture Secretary Tom Vilsack commended cooperatives for helping fuel economic recovery in rural America in partnership with the U.S. Department of Agriculture. With its Rural Cooperative Development Grant (RCDG) Program and newly-formed Interagency Working Group on Cooperatives Development—provisions advocated for by NCBA CLUSA—USDA is a strong supporter of cooperative enterprise and its positive impact nationwide.
Agriculture Secretary Tom Vilsack told electric cooperative leaders "we're headed in the right direction in rural America" and said co-ops are crucial to that progress.
"We want to make sure that production agriculture has its rightful place at the center of any rebuilt and revitalized rural economy," Vilsack said during the February 17 closing session of the 2016 NRECA Annual Meeting.
And while stressing how vital farmers and ranchers are, Vilsack said another important piece of the puzzle is "the opportunity to bring manufacturing back to rural America—something that I know co-ops are extremely interested in and have been investing in."
Vilsack pointed to "the bio-based economy—the ability to take what we grow and raise and convert it into far more valuable components and ingredients."
It goes beyond renewable fuels—expanding into "chemicals, materials, fabrics and fibers" and making for "a $369 billion industry that helps to employ nearly four million people in our country, and we're just getting started," Vilsack said.
"It plays to the strengths of rural America and it plays to the strengths of cooperatives that provide energy and power to rural America."
But Vilsack made clear that "we still have challenges" and cited one of the toughest: opioid and heroin abuse.
"I suspect that you know someone who's been impacted and affected by this," he said, noting that rural America's mortality rates are increasing. Vilsack said an "aggressive effort" is underway with state, local, nonprofit and private industry leaders to increase awareness of the issue and expand treatment opportunities.
"The key to that will be investing in the infrastructure that will allow behavioral sciences either to be located in a particular community or be available via Internet and broadband—once again playing to the rural responsibility you all have as cooperatives," Vilsack said.
Looking out at the Ernest N. Morial Convention Center packed with co-op leaders, the secretary told them, "This is an organization that has done incredible work, and I would be remiss if I didn't acknowledge the great work that's been done by co-ops around the country in partnership with USDA."
"As we progress as a country," he said, "I think there will be an even greater awareness and appreciation for the importance of rural America to this country, and to the world, and to those who make it all possible: the folks who work at the cooperatives and the rural electric co-ops across the United States."