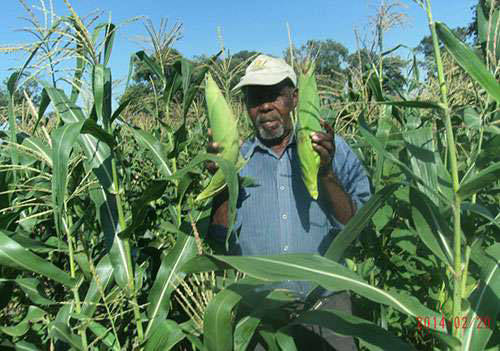 Vilho Nande, a farmer who practices Conservation Agriculture (CA) in the Oshikoto region of Namibia, is reporting a bumper crop of more than 13,000 lbs (6,000 kg) of "mahangu," or pearl millet, according to a report by the New Era Newspaper.
Farmers planting maize and cowpea are reporting similar success.
Nande is lead farmer for the USAID-funded Namibia Conservation Agriculture Project (NCAP) implemented by NCBA CLUSA. Using the rip-furrow method, he demonstrates the benefits of CA and trains nearby farmers in climate-smart methods. Conservation Farming minimizes soil disturbance, helps prevent soil erosion and allows crops to take deeper root and retain more moisture.
Other farmers in the region are demonstrating the basin method, which requires a hand hoe to dig planting holes. Both methods utilize soil cover, crop rotation and nitrogen fixing legumes such as cowpea and velvet bean. Velvet bean is frequently intercropped in fields once the other crops are knee-high. The legume not only suffocates weeds by covering the soil between planting lines, it also fixes nitrogen in the soil.
Nande says he will now practice CA methods on his entire farm, thanks to the high yields. His household food security has increased to the point where he is now able to market a surplus.
The project is expected to train more than 10,000 farmers in seven northern regions of Namibia. The project is implemented in cooperation with local partners Creative Entrepreneurs Solutions and the Namibia National Farmers Union.
Smallholder farmers who increase production are on the path to becoming semi-commercial farmers who are economically empowered to pay for services. Observers say this creates the need for rip-furrow land preparation services, seed outlets, transportation of produce to the markets and after-harvest services such as mechanized threshing, providing a new industry for local entrepreneurs.
—reported by Deon Schlechter/New Era Newspaper, edited by NCBA CLUSA