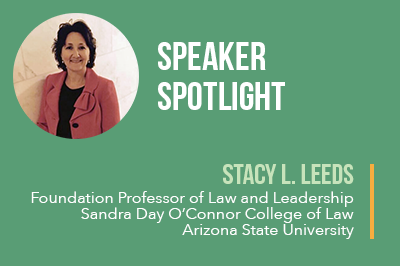 The Native American Agriculture Fund (NAAF), Cooperative Development Foundation (CDF) and the National Cooperative Business Association CLUSA International (NCBA CLUSA) will co-host a webinar series on enhancing Native American food systems through cooperatives this summer.
Scheduled for August 2-5, 2021 from 12-2:30 pm EDT each day, "Cooperating to Enhance Native American Food Economies" will explore the role of cooperatives in harnessing Indian Country's economic and nutritional potential to recover from COVID-19 and propel sustainable rural economic development. 
Don't miss Indian law scholar Stacy L. Leeds' presentation, "The Legal Framework for Agriculture Cooperatives in Indian Country" on Monday, August 2.
Leeds is Foundation Professor of Law and Leadership for the Sandra Day O'Connor College of Law at Arizona State University where she is part of the Indian Legal Program. ASU has the largest and most experienced Native faculty in the U.S.
A citizen of the Cherokee Nation, Professor Leeds previously served as Dean of the University of Arkansas School of Law. She was the first Native American woman to serve as dean of a law school. Most recently, she was the vice chancellor for economic development, dean emeritus and a professor at the University of Arkansas.
Leeds is a former justice for the Cherokee Nation's Supreme Court, the first woman to serve in that capacity. She also served as a judge for several other Native nations and as a member of the board of directors of the National American Indian Court Judges Association and chair of the American Bar Association Judicial Division's Tribal Courts Council.
She currently is a Muscogee (Creek) Nation district court judge and an appellate court judge for Prairie Band Potawatomi Nation. She serves on the boards of Kituwah, LLC; American Indian Graduate Center; Akiptan, Inc.; and the American Indian Resource Center, Inc.