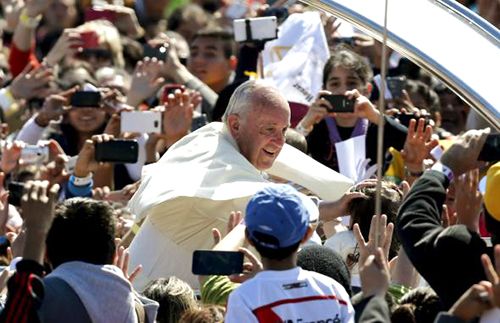 Pope Francis reiterated his support for cooperative businesses as a means of achieving "an economy of honesty" during his tour of South America this month. The International Cooperative Alliance reported on his recent stop in Bolivia. An edited version of the ICA's news release follows:
In a speech earlier this month in Santa Cruz, Bolivia, before nearly 2,000 social activists, worker cooperatives and other grassroots groups, Pope Francis said that low-income, indigenous communities and the organizers who work with them would drive lasting economic change.
Cooperatives, he said, are helping to create a new, more inclusive economy from the grassroots up. "I have seen firsthand a variety of experiences where workers united in cooperatives … were able to create work where there were only crumbs of an economy," the pope said.
"How different this is from the situation that results when those left behind by the formal market are exploited," he added.
Pope Francis has repeatedly defined the current economic challenge as the failure of global capitalism to create fairness, equity and dignified livelihoods for the poor. He has called for a global movement against what he calls a "new colonialism" rooted in economic inequality. The pope's critique comes as rising income disparity and repeated financial crises have unsettled voters, policymakers and economists.
In a February address, Pope Francis made similar remarks, encouraging the growth of cooperatives as an economic model that serves the common good. 
Cooperatives, he said, are "enterprises based on the principles of solidarity and social relations." These organizations act as "the lever that raises and develops the weakest part of local communities and civil society."