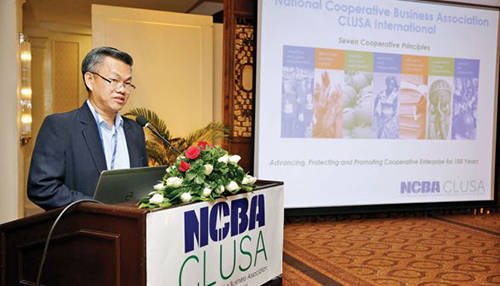 (September 1, 2015)
NCBA CLUSA hosted senior representatives from Cambodia's government, the United Nations, regional USAID leadership and active development organizations at a reception in Phnom Penh, Cambodia, last week to discuss opportunities and challenges facing the country's economic development.
Amy Coughenour, NCBA CLUSA's COO for International Development, and Sam Filiaci, NCBA CLUSA's regional director for Southeast Asia, provided an overview of NCBA CLUSA's successful international programs in sustainable agriculture, nutrition and agribusiness in Southeast Asia and around the world.
During the event, Coughenour invited participants to exchange ideas and discuss opportunities on how Cambodia can increase economic opportunities in agriculture for farmers—including women and youth—expand market and finance linkages, and strengthen the cooperative sector as a key player in agricultural value chains.
"We are excited to see Cambodia's focus on growing its agribusiness in partnership with the cooperative sector. Now is a great time to share our successes in the region and around the world and to explore new partnerships here in Cambodia," Coughenour said.
Investing in the agricultural sector is a priority for Cambodia, Dr. Ty Sokhun, Cambodia's Secretary of State for the Ministry of Agriculture, Forestry and Fisheries, said at the event. "These investments are essential not only to ensure the achievement of food and nutritional security and poverty alleviation, but also the revitalization of rural societies and inter-connections within a rapidly-changing world," Sokhun said.
In partnership with donors and the private sector, NCBA CLUSA's programs in Southeast Asia have created and supported profitable business activities through a network of farmers, cooperatives, processors, financial institutions and exporters. NCBA CLUSA's global trading partner, Cooperative Business International (CBI), and its regional partners are the largest buyers, processors and exporters of quality assured and internationally accredited specialty coffees and spices in Asia, sourcing products for businesses like Starbucks and McCormick and Frontier spices, just to name a few.
NCBA CLUSA's accomplishments in the region over the past 35 years have significantly increased incomes and economic opportunities for farmers in 18 countries from Indonesia and East Timor, Africa and Latin America through sustainable cooperative businesses.
The August 28 reception was attended by senior representatives of Cambodia's Ministry of Agriculture, Forestry and Fisheries, agribusiness leaders in Cambodia, NGOs active in the agriculture and natural resources sectors in Cambodia, United Nations agencies including FAO and WFP, and prominent donors to the agriculture sector in Cambodia including ADB, USAID and others.