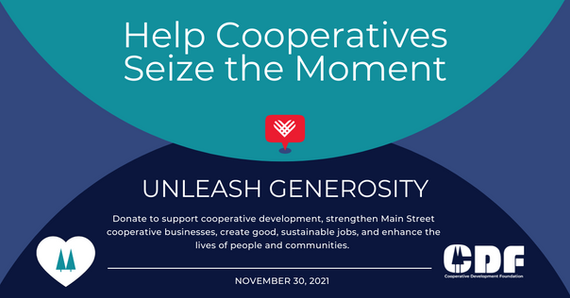 The cooperative community's continued support of the Cooperative Development Foundation has allowed us to make grants, loans, and investments that support cooperative development, strengthen Main Street cooperative businesses, create good sustainable jobs, and enhance the lives of people and communities during a global pandemic. This holiday season, the cooperative community can seize the moment by donating to the Cooperative Development Foundation's end of year fundraising drive.
During the year, donor contributions empowered CDF to provide:
Essential support for cooperative education projects. Scholarships for attendees who could not otherwise have attended key learning events, such as the Co-op IMPACT Conference, St. Mary's University cooperative education courses, and the CCMA Conference.
Leadership and funding for the creation of a secondary cooperative to support home care cooperatives.
Technical assistance and data driven resources to 16 existing and start-up home care co-ops.
Sponsorship of 17 cooperative events in the U.S. that brought together thousands of people virtually and in-person.
Important advances in our work on DEI, including publication of Diversity, Equity and Inclusion Trends in the Cooperative Community, a report on a firm-level, cross-sector survey of NCBA CLUSA members conducted by the University of Wisconsin Center for Cooperatives in conjunction with NCBA CLUSA and coordination of a DEI Peer Learning Cohort in collaboration with NCBA CLUSA to catalyze and support cooperatives in strengthening their DEI practices for greater impact.
An important new focus on the value of cooperatives in enhancing Native American Food systems through our role in co-hosting Cooperating to Enhance Native American Food Economies with the Native American Agriculture Fund and NCBA CLUSA.
Help cooperatives seize the moment with a year-end contribution. Donate online or complete the donation form and send a check to Cooperative Development Foundation, 1775 Eye Street, NW, 8th Floor, Washington, DC, 20006.
In addition to your donation, you can also help CDF's fundraising effort by sharing our Giving Tuesday donation link on November 30 via email and on your social media platforms.