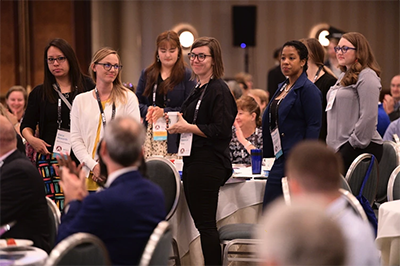 Applications for the Cooperative Leaders & Scholars (CLS) program are due July 31. CLS is a competitive and cross-sector scholarship for emerging co-op employees, board members, and post-secondary students to nurture the next generation of cooperative leaders. Submit your application today.
On October 3-7, the CLS cohort will:
Participate in an exclusive orientation, networking, and wrap-up events designed specifically to broaden their understanding of the impact cooperatives, mutuals, and credit unions have on members, communities, and the broader economy
Attend the Co-op IMPACT Conference from October 5-6 in Washington, DC
Attend the Cooperative Hall of Fame Banquet and Induction Ceremony on October 6
Participate in a Saint Mary's University cooperative management course
Scholarships are open to:
Young professionals (ages 18 – 35) beginning their career in cooperative businesses, credit unions, and mutual insurance.
Post-secondary students of any age with an interest in co-ops, credit unions, and mutual insurance.
Deadline for applications is July 31. Scholarship recipients will be announced on August 12. Contact Julia Selig at jselig@ncba.coop for more information.
Your sponsorship can help CLS flourish!
A $2,000 sponsorship will cover IMPACT, Cooperative Hall of Fame, and Saint Mary's University registrations, airfare, and accommodations for one attendee. You may either name the attendee you would like to sponsor or permit us to open the spot to applicants in our competitive scholarship process. Contact Kirstie Boyette about sponsoring the program or a participant at kboyette@ncba.coop.