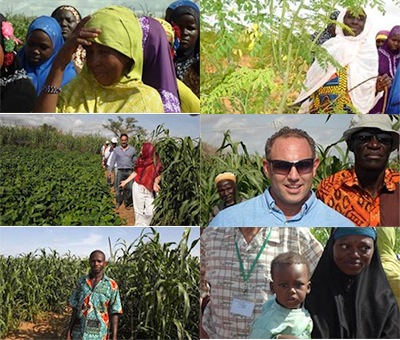 Representatives from the U.S. Senate's Committee on Foreign Relations say they are pleased by progress made against benchmarks on NCBA CLUSA's USAID-funded project that addresses the root causes of chronic vulnerability in the Sahel region of Northern Africa while promoting economic resilience.
This five-year, $70 million project implemented in Niger and Burkina Faso, "Resilience and Economic Growth in the Sahel – Enhanced Resilience" (REGIS-ER), is empowering local communities with the tools and knowledge necessary to adapt to climate change, withstand food crises and improve nutrition, especially among children under the age of five.
The August 18 site visit—the first from observers outside of USAID—began with a stop at REGIS-ER headquarters, followed by a field visit to three REGIS-ER projects in Niger's Tillabéri region.
In Sassaba, the team visited community members cultivating Moringa in home gardens. The plant is easy to grow and its leaves and seeds are nutrient-dense, making it an ideal crop to supplement both diets and incomes. Just six months after planting, the moringa is already producing edible leaves, providing much-needed nutrition to the village.
In Tinkafa II, the team observed families who had received goats to diversify their income, reduce vulnerability and improve their living conditions. One beneficiary welcomed the observers to her farm, where she cares for and breeds the goats.
"I want to thank the REGIS-ER project, which has given me these goats … I am proud because some of my goats are already starting to reproduce," she said.
The team also visited the community of Izawitan, where beneficiaries are planting and harvesting millet using the Conservation Agriculture techniques of minimum soil disturbance, soil rotation and mulching.
"By comparing the modern and traditional methods of agriculture, I've learned so many lessons, and the difference is clear," said Saley Alhade, one smallholder millet farmer.
"The progress I've made in 45 days by using the techniques of Conservation Farming continues to generate the enthusiasm of the other [farmers], some of whom have already committed to apply the techniques next year," Alhade added.
Michael Phelan, a senior policy advisor on the Senate's Committee on Foreign Relations, said he was impressed by the accomplishments realized within such a short timeframe.
"It's truly incredible to see how much easier and more efficient agriculture becomes with the application of modern farming techniques," Phelan said.
The Foreign Relations Committee team was accompanied by representatives from USAID's Niger Mission, along with officials from the United Nations World Food Program and the nonprofit organization OXFAM.
—Reported by Balkissa Hamidou/edited by NCBA CLUSA staff