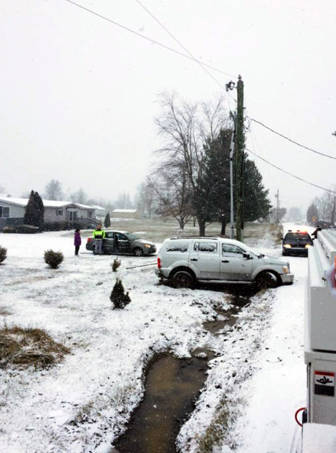 Ice, snow and frigid temperatures are complicating their efforts, but electric co-ops continue to serve their customers and respond to widespread outages amid this month's cold spell. Electric Co-op Today published this report:
As a wintry blast swept across the country this month, electric cooperative line crews from Texas and Montana to the East Coast moved quickly to deal with widespread outages in the face of ice, snow, mud and face-burning cold.
In the southwest, heavy ice accumulations sagged lines at Rio Grande Electric Cooperative, while high winds led to splice breaks and broken poles on January 2.
"Rio Grande Electric Cooperative has sustained substantial damage in our west Texas and southeastern New Mexico service territory," said Cindy Edwards, communications coordinator for the Brackettville, Texas-based co-op.
One power line was snagged by a moving truck, which "started a domino effect and pole after pole began to fall," Rio Grande EC CEO Dan Laws told members in a message posted on the co-op's Facebook page.
At least 222 poles in the co-op's territory had to be replaced and although crews and contractors worked long hours, thawing conditions stalled work through mountainous areas.
"Muddy conditions pose the greatest problem for us," Laws said. "We have two dozers on location to pull trucks up and down the line and clear right of way, but it makes for slow going."
Crews were working through about 1,700 remaining outages on January 7.
Record snowfalls over parts of Montana caused scattered outages on distribution lines serving members of Flathead Electric Cooperative. During a 24-hour period ending at midday on January 5, more that two feet of snow fell in West Glacier and Polson. Kalispell, where Flathead is based, received 16 inches of snow.
"A falling tree cut power to 67 of our members nears Somers," said Wendy Ostrom Price, public relations officer for the co-op. "This time of year, we anticipate scattered outages caused by high winds and heavy snow, so we have crews ready to respond when they occur."
High winds and heavy ice accumulations caused galloping lines in parts of Nebraska and the Dakotas on January 5 and 6. Electric co-ops, public utility districts and other utilities had crews working to clear lines and restore service as wind chill factors hit 50 below zero.
Frigid temperatures also pushed up demand for electricity in co-op served areas, as members adjusted thermostats upward to keep their homes and businesses comfortable.
Delaware Electric Cooperative expected to issue a request for members to reduce power use voluntarily the morning of January 8, said Jeremy Tucker, manager of marketing and communications for the Greenwood-based co-op.
"Thousands have signed up for text and email messages or receive alerts through our 'Beat the Peak' communications devices," said Tucker. "We ask members to voluntarily conserve—they use less energy which lowers our costs for power."
The Tennessee Valley Authority also asked consumers to trim back their electricity use. TVA expected the electric load in its seven-state system to exceed the 32,500 megawatts registered at the height of the January 2014 cold wave.