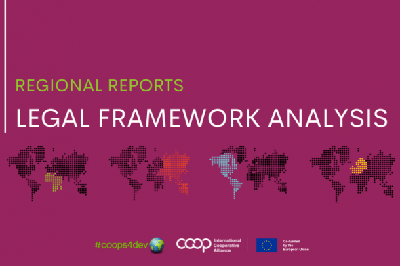 The International Cooperative Alliance (ICA)-European Union (EU) Partnership #coops4dev has recently released four new regional reports as part of its legal framework analysis research. One report has been produced by each ICA Regional Office, authored by regional experts in each region. The reports provide a comprehensive overview and analysis of cooperative legislation at regional level, as well as specific recommendations to support an enabling environment for cooperatives.
The regional reports complement and build upon the 79 national reports which assess the state of cooperative law at national level and provide a strong knowledge base for ICA members and stakeholders. The regional reports can be accessed on the #coops4dev resources page, with national reports accessible on the online interactive map.
The work demonstrates that the absence of a supportive legal frameworks for cooperatives, or the presence of inadequate legal frameworks, can negatively impact cooperatives and their evolution. In contrast, the existence of supportive regulations can enhance cooperative development, acting as an important driver of sustainable development.
Building on the national reports, the regional reports take the analysis one step further by identifying regional trends and common challenges which will be helpful to support the future development of an enabling environment for cooperatives. Trends identified include elements such as the importance of adequate recognition of the cooperative identity within the law, a suitable definition for cooperatives, and the need to update cooperative law in many jurisdictions, to name only a few important findings.
The results of the research have also been instrumental in supporting the policy and advocacy activities of ICA, and are featured in the recent United Nations Secretary General's Report for Cooperatives in Social Development. The results of the research are also being presented at the 3rd International Forum on Cooperative Law ahead of the World Cooperative Congress, which takes place from December 1-3, 2021 in Seoul, Korea.