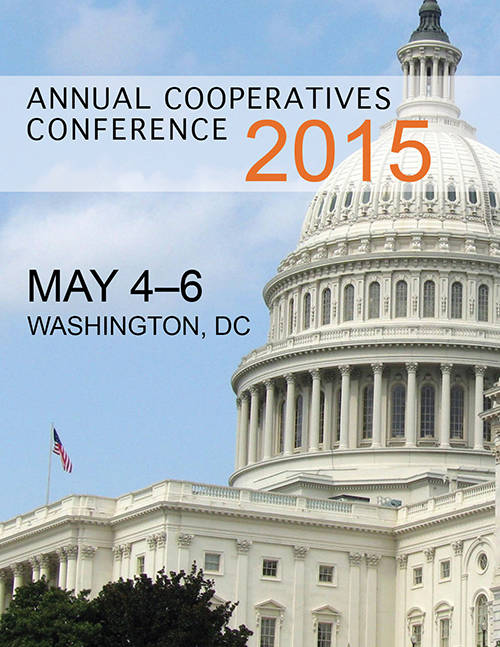 There are only a few days left to take advantage of early-bird pricing on conference registration for the first cross-sector cooperative advocacy conference meeting in Washington, D.C., from May 4 – 6.
With its theme, "Uncommon Power, Common Purpose," NCBA CLUSA's 2015 Annual Cooperatives Conference will give participants the opportunity to bring their cooperative voices directly to the nation's capital and engage with federal policymakers to protect and advance the cooperative business model.
The Early-Bird Full Registration Package includes conference materials and admission to all sessions, networking events and meals. Register on or before April 3 to lock in the $375 early-bird rate for NCBA CLUSA members ($575 for non-members). Rates for members and non-members will increase by $100 after April 3.
The 2015 Annual Cooperatives Conference is designed to educate and inform policymakers by demonstrating the scope and value of the cooperative model and movement and the important role cooperatives play in the U.S. economy. Our federal officials need to know who co-ops are, what co-ops look like, where they're found within the economy, and why people consistently choose the high-quality goods and services co-ops provide.
To bring attendees who are new to advocacy up to speed, NCBA CLUSA will host an Advocacy Boot Camp on May 4. NCBA CLUSA's Advocacy Team will guide attendees through the dynamics of effective advocacy and current areas of opportunity. Then, on May 5, we'll lead multiple "Hike the Hill" meetings to present a united cooperative agenda to policymakers on Capitol Hill and conclude with meetings with federal agency and Obama Administration officials on May 6.
You can be an integral part of this process—and lock in a great deal by registering early! Join us in May to harness the power of advocacy as we educate and inform policymakers and work toward building a better-informed electorate with Uncommon Power, Common Purpose.
The Avenue Suites Hotel is offering participants of the Annual Cooperatives Conference a discounted room rate of $269 (plus taxes and fees) for reservations made by April 6, 2015. To reserve your room, call Reservations today at 888-874-0100 and reference NCBA CLUSA.