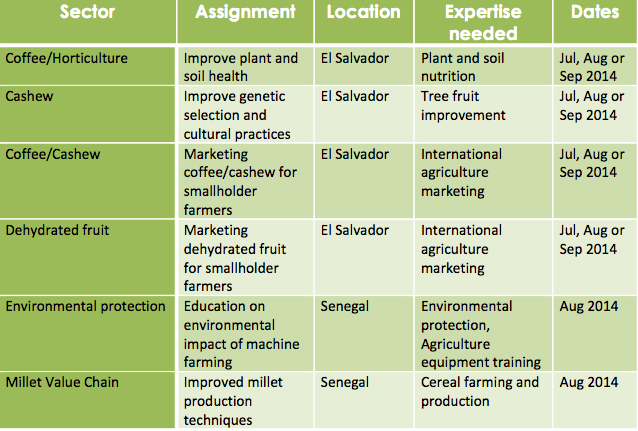 Do you want to join a global network of amazing volunteers who donate their time, energy and expertise to assisting NCBA CLUSA cooperative farmers in the field?
We are now recruiting dedicated professionals in the agriculture industry to participate in volunteer assignments assisting farmers and cooperatives in El Salvador and Senegal. We currently have several exciting opportunities open in August and September 2014, each of which last 2-3 weeks long. See the opportunities below.
For opportunities in El Salvador, please email Kristina Klassen, NCBA CLUSA Program Manager for East Timor, Indonesia, Guatemala, at kklassen@ncbaclusa.coop.
Please email NCBA CLUSA Program Manager for Uganda and Namibia Jane Podolsky at jpodolsky@ncbaclusa.coop if you are available and interested in any of the opportunities in Senegal. Podolsky oversees NCBA CLUSA's Farmer to Farmer program.