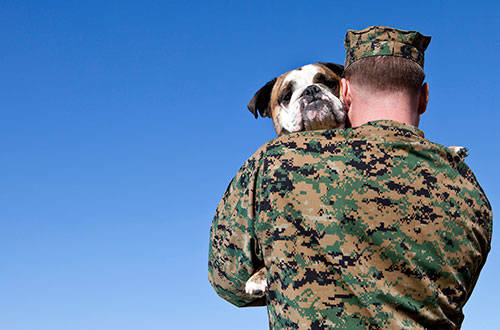 Flooring America recently received Pets for Patriots' first-ever "Pet Hero" award for its support of the organization's mission to transform the lives of veterans by helping them save at-risk shelter dogs or cats. The award comes after several years of partnership between Flooring America and the national nonprofit, Pets for Patriots.
Flooring America teamed up with Pets for Patriots because the organization's mission is well aligned with the core values of its more than 550 independent retailers—a commitment to community, patriotism and giving back to those who served our country.
"I am incredibly proud of our hundreds of members who have dedicated their time and resources to raise money for this worthy cause within their own communities," said Frank Chiera, vice president of Marketing at Flooring America.
"Our members are giving veterans and military personnel as well as the at-risk pets a second chance at life by allowing them to forge powerful bonds," he added.
In order to raise money for the organization, Flooring America designed and sold patriotic doormats online. Members from across the country have held a variety of events at their stores including "Pix With Your Pet Friendraisers," during which customers can bring their pets into the stores for photos, with the proceeds going directly to Pets for Patriots. This year at its winter meeting, Flooring America raised over $10,000 for the organization at its member golf tournament.
"The executive leadership and the hundreds of independent store owners of Flooring America have truly embraced our mission and are deserving recipients of our inaugural "Pet Hero" Award," said Beth Zimmerman, founder and executive director of Pets for Patriots.
"Their passion for our mission and relentless drive to create awareness, engagement and funding is helping veterans across the country afford to have new pet friends in their lives," she added.
To date, Flooring America has raised nearly $75,000 for the organization with the support of its members and customers. The company's goal is to raise more than $250,000 for Pets for Patriots.
Flooring America is a division of CCA Global Partners, a proud member of NCBA CLUSA and one of the nation's largest floor covering cooperatives.