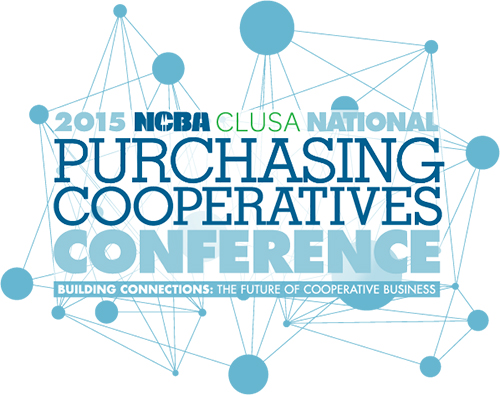 NCBA CLUSA's 2015 National Purchasing Cooperatives Conference in New Orleans, Louisiana, is less than a week away! If you haven't already registered, there's still time to make this investment in the future growth of your co-op!
We've got a unique mix of workshops, think tank sessions, panel discussions and networking events planned this year, including our timely panel on succession planning and the worker co-op option.
Baby Boomers between the ages of 60 and 70 currently own an estimated 6 to 8 million closely-held family businesses in the U.S., making the coming decade a key opportunity for the cooperative movement to take advantage of high turnover of business ownership. Worker co-ops increasingly provide a great alternative to big-box buyout, closure or worse.
Our panelists for this discussion include Gary Pittsford, CEO of Castle Wealth Advisors, LLC; Joe Marraffino, Cooperative Developer for the Democracy at Work Institute; and Rob Brown, Director of Business Ownership Solutions at the Cooperative Development Institute. Pat Sterner, COO of Domestic Operations for NCBA CLUSA, will moderate the discussion.
These thought leaders are just a few of this year's stellar lineup of speakers. Please take a moment now to get to know our full speaker lineup for NPCC 2015. See you in New Orleans!

Adam Schwartz
Founder and Principal, The Cooperative Way
Adam Schwartz is the founder and principal of The Cooperative Way, a consulting firm dedicated to helping cooperative businesses succeed. The Cooperative Way is a strategic partner with CDS Consulting Co-op, a shared services cooperative. Schwartz has served cooperatives from different sectors for 23 years and has extensive knowledge of the key ingredients that lead to high performing, sustainable success for cooperatives from all sectors. He provides strategic guidance to the boards, employees and members of co-ops seeking to utilize cooperative principles and values as the primary force in serving their members and the community.

Alexander Gillett
Co-founder and CEO, HowGood
Alexander Gillett is the co-founder and CEO of HowGood, an independent organization that researches and rates the environmental and social impact of food products. His deep industry knowledge and connections have helped guide HowGood's growth from a good idea to a reality. With more than 140,000 products rated, the organization now boasts the largest food sustainability database in the world. Gillett's understanding of the food business landscape makes it possible for a transformative idea like HowGood to bloom in a neophobic industry. Overseeing the business from administration to strategy, Gillett has taken HowGood from concept to game changer.

Amanda Daubert
Vice President of Administration, Furniture First 
As vice president of Administration for Furniture First, Daubert's responsibilities include expansion of the group's membership, engaging current membership, managing centralized billing and direct billing programs, and overseeing the rebate process. Daubert is also responsible for working closely with Furniture First's Board of Directors to ensure the company's goals and objectives are accomplished by its staff.

Bruce Carrozzi
Divisional Vice President of Retail Growth, True Value Company 
As divisional vice president of Retail Growth at True Value Company, Carrozzi is responsible for the sales and probability of 3,100 co-op members across the U.S. representing $1.5 billion in annual wholesale revenue. In addition to more than 30 years of hardware and home center experience, Carrozzi has a passion for bettering the lives of independent co-op owners through the improved planning and management of their business operations.

Dan Arnett
General Manager, Central Co-op 
Dan Arnett is general manager of Central Co-op, a consumer food cooperative located in the Capitol Hills neighborhood of Seattle with more than 13,000 active members. Arnett has worked at cooperative businesses since the late 1990s, with cooperative management experience totaling 16 years. He holds a Master of Management: Co-ops and Credit Unions degree from St. Mary's University. Arnett currently serves on the boards of National Co+op Grocers and the Northwest Cooperative Alliance, also known as SLICE (Strengthening Local Independent Cooperatives Everywhere).

Evan Hackel
CEO and Founder of Ingage Consulting
Over the past 30 years, Evan Hackel has gained extensive management experience across cooperative sectors. In the early 90s, he was enlisted to run, manage and build a new leadership team for a large cooperative in the wake of the departure of its startup team. Hackel managed CCA Global Partners' purchase of the then bankrupt Flooring America franchise system, converting the cooperative and increasing business from $700 million to $2 billion in four years. Hackel also served as president of Carpet One, CCA's largest division with more than $3 billion in sales. Currently, Hackel is the founder and CEO of Ingage Consulting, the foremost provider of specialized management consulting services for leaders of franchises, cooperatives, buying groups and dealer networks.

Frank Kasnick
President and CEO, Independent Welding Distributors Cooperative 
Since 2011, Frank Kasnick has led Independent Welding Distributors Cooperative (IWDC), a marketing and purchasing cooperative owned by 135 independent gas and welding distributors across North America. IWDC's member footprint consists of more than 700 locations totaling approximately $2.2 billion in sales. Before joining IWDC, Kasnick was an executive at Praxair, where he oversaw regional P&L and later worked in the organization's corporate marketing department. Prior to Praxair, Kasnick held a leadership role at a major independent gas and welding distributor. Before entering the gas and welding industry, he held various commercial roles at Union Carbide, Castrol and BP.

Gary Pittsford, CFP
President and CEO, Castle Wealth Advisors 
As the founder of Castle Wealth Advisors, Pittsford has worked to place the best people in the right positions within the company to optimally serve its clients. His ongoing priority is to provide sound financial advice and work closely with the Castle Wealth team to help each of their clients achieve their financial goals. He has more than three decades of comprehensive fee-only financial advisory experience, is a Certified Financial Planner and has held numerous leadership positions locally and nationally. Pittsford is also a sought-after presenter at national business conventions and an author, having contributed to and written articles for industry-specific and national publications.

Joe Marraffino
Cooperative Developer, Democracy at Work Institute 
As cooperative developer at the Democracy at Work Institute, Marraffino's expertise includes startup financial planning, governance and democratic capacity building for worker cooperatives. Based in Ithaca, New York, he primarily works with clients in rural areas of the Northeast, but also offers trainings and technical assistance nationally. Before joining the Democracy at Work Institute as a founding organizer, Marraffino served as financial manager for GreenStar Natural Foods Market in Ithaca, a $20 million consumer-owned grocery.

Kevin Higginbotham
CEO, Evergreen Marketing Group 
Kevin Higginbotham is CEO of the Evergreen Marketing Group, the leading cooperative for independent construction/industrial tools and supplies distributors and manufacturers. Since joining Evergreen in 1995, Higginbotham has led the development of programs focused on training and education, business development and partnering. He has been a member of NCBA CLUSA since 1998, served on past Purchasing Cooperatives Conference Planning Committees and has also presented and moderated panels at NCBA CLUSA's Annual Cooperatives Conference. In 2015, Higginbotham was elected to the NCBA CLUSA Board of Directors.

Pat Sterner
COO of Domestic Operations, NCBA CLUSA
Pat Sterner is COO of Domestic Operations for NCBA CLUSA. She brings to the position more than 30 years of experience in the civic sector, managing organizations and providing consulting services in the areas of governance, fundraising, program development, strategic planning and organizational development. Most recently, Sterner served as the Managing Director of the Center for Women's Health Research at the University of Colorado. She received a faculty appointment during her tenure. Previously, Sterner was Principal and CEO of JFB & Associates, LLC, a consulting firm providing services for non-profits and foundations. Established in 2002, JFB & Associates, LLC, provides strategic planning services, organizational development and governance consulting to more than 100 clients including the Maryland/DC Credit Union Association, the Minnesota Credit Union Foundation, the Aspen Institute, the Women's Foundation of Colorado, Mile High United Way and Rose Community Foundation. Prior to establishing JFB & Associates, Sterner was Executive Director of the National Credit Union Foundation (NCUF), the charitable development arm for the national credit union industry.

Rob Brown
Director of Business Ownership Solutions, Cooperative Development Institute 
Rob Brown is the director of Business Ownership Solutions, a program of the Cooperative Development Institute (CDI) that promotes worker ownership in Maine and works with retiring business owners and their employees to facilitate conversion to worker-owned co-ops. CDI is the USDA-designated Northeast Center for Cooperative Business Development. Brown has also helped mobile home park residents convert investor-owned parks to resident-owned cooperatives. Prior to his work with CDI, he was the founding executive director of Opportunity Maine, a statewide organizing, research and advocacy nonprofit focus on education and workforce development, energy policy and economic development.

Roberta MacDonald
Senior Vice President of Marketing, Cabot Creamery Cooperative
MacDonald is nearing 40 years of consumer product and trade marketing experience, the last 26 of which she has spent as senior vice president of Marketing for Vermont-based Cabot Creamery Cooperative. She previously served as Vermont's first director of Marketing, a position then Governor Kunin created for her in 1984. MacDonald has been recognized with awards for design, promotion and high-impact public relations programs, including Cookies for Good and the Cabot Reward Volunteers iPhone app. Prior to moving to Vermont, MacDonald provided marketing, consulting and staff services for leading organizations and enterprises, including the San Francisco Opera, the National Endowment for the Arts, American Express, New York University and CBS.

Rohnel de Rozario
Strategy, Leadership Development and Organization Change Consultant, Hay Group 
Rohnel de Rozario is a strategy, leadership development and organization change consultant at Hay Group. He has more than 10 years of experience in the U.S., Europe and Asia. Rozario has worked extensively with CEOs and senior executives to help them address strategy, people, leadership and organization-related challenges. He has consulted across a range of industries with companies such as Bloomingdales, Honda and Fidelity. His experiences include organizational growth transformation for a world leader in financial services; strategic workforce planning for a leader in B2B/B2C services; Omni-channel transformation for a global leader in fashion retail; CEO succession planning and articulation of the business intent for a leader in the healthcare industry; and several post-merger integration assignments involving change management and organizational transformation in complex environments.

Scott Bebenek

President, IDI Independent Distributors, Inc. 
Scott Bebenek's career has spanned more than 25 years in the Canadian retail food, foodservice and industrial supply marketplace, with 15 years spent working for and with co-ops and buying groups. For the past seven years, Bebenek has served as president of IDI Independent Distributors, Inc., a 32-year-old cooperative of independent distributors servicing MRO markets. IDI's members have a total purchasing power of more than $1.25 billion, with more than 270 branches across Canada. During his tenure at IDI, Bebenek has broadened IDI's value proposition to its membership in areas beyond rebates by guiding the organization through its first formal strategic plan—redefining how IDI measures its value to members. He also led numerous technological initiatives at IDI, such as establishing a centralized electronic database of supplier data and building an e-comm network with IDI's core vendor partners.

Stephen Irvin
President, Amicus Solar Cooperative 
Irvin has been president of Amicus Solar—the first purchasing co-op in the U.S. solar industry—since its founding in 2011. Amicus is jointly-owned and democratically managed by its membership of solar development, EPC, integration and installation companies. Amicus currently supports more than 34 member companies across 26 states, which employ more than 1,300 solar professionals. Irvin led the creation of Amicus while serving as CFO for Namasté Solar, a Colorado-based solar integrator and worker co-op specializing in the design, construction and long-term monitoring and maintenance of solar PV systems.

Teri Ditsch
Marketing Director, BLUE HAWK Cooperative 
Prior to joining BLUE HAWK Cooperative in 2010, Ditsch was a marketing consultant for AIP Solutions, a commercial collections agency specializing in co-ops and buying groups. She previously served as director of Communications and Meeting Planning for AMAROK, a drywall distributor purchasing co-op, and NEMEON, a roofing and siding distributor purchasing co-op. At NEMEON, Ditsch oversaw marketing and communications, magazine and newsletter distribution, public relations, advertising and meeting planning.