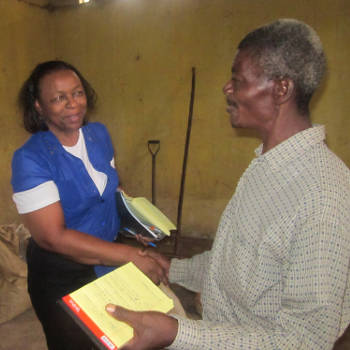 Port Au Prince, Haiti — In July 2013, NCBA CLUSA teamed up with association member, the Federation of Southern Cooperatives (FSC), to strengthen cooperatives businesses and organizational governance structures the in cocoa-producing region of Northern Haiti. This project will benefit more than 10,000 people, including 2,500 cooperative members and their families.
Funded by the International Cooperative Alliance (ICA), NCBA CLUSA and FSC is working directly with the Federation of Cocoa Cooperatives in Northern Haiti (FECCANO), training them and their cooperative members in a series of core cooperative competencies, with the goal of assisting them in improving overall cooperative governance, business management capacity, and cooperative processing infrastructure.
The first training took place from July 29th to August 3rd in Cap Haitian on the northern coast of Haiti, where 4 out of the 6 targeted cooperatives received the training. A well-qualified team of 4 from FSC travelled to Haiti: Mr. Cornelius Blanding, NCBA CLUSA board member, Mr. Ben Burkett, expert FSC farmer, Ms. Alice Paris and co-op expert and "Cooperative Hall of Famer" Ms. Melbah Smith.
The workshop focused on 1) Improving FECCANO's capacity to provide technical and marketing assistance to its membership; 2) Improving member cooperatives capacity to support the federated structure and market cooperatively – in hopes of FECCANO ultimately becoming a stronger member organization and a major exporter of cocoa – in order to increase income to member cooperatives and individual producers; and 3) Working with co-ops to set up basic coop education (including coop principles and leadership) to cooperative members.
FECCANO was formed in 2005 to improve cooperative cocoa cultivation systems by providing post-harvest collection sites, drying and washing/fermentation facilities for 2,500 smallholder farmers in Northern Haiti. Since then, their capacity to support the network of producers and cooperative members has been stretched and after extensive discussions with both FECCANO leadership and members, it was determined that strengthening their cooperative governance and existing linkages between markets and their farmer members, would enable FECCANO to become a stronger member organization and a major exporter of cocoa, ultimately increasing income to member cooperatives and individual producers.
A second trip is in the planning stages and would focus on training the remaining 2 cooperatives and establishing an ongoing collaborative relationship with the FSC for the sharing of expertise and possible joint ventures to explore the potential to jointly market cocoa in the US.The National Cooperative Business Association CLUSA International (NCBA CLUSA) is the trade association for cooperative businesses in the United States and an international development organization. NCBA CLUSA provides cross-sector education, technical assistance, and advocacy that helps co-ops thrive. For nearly 100 years, NCBA CLUSA has sought to advance and protect cooperative enterprises, highlighting the impact that cooperatives have in bettering the lives of individuals and families. In the last 60 years, NCBA CLUSA has grown its international development portfolio to over $34 million of active programs in 15 countries.###