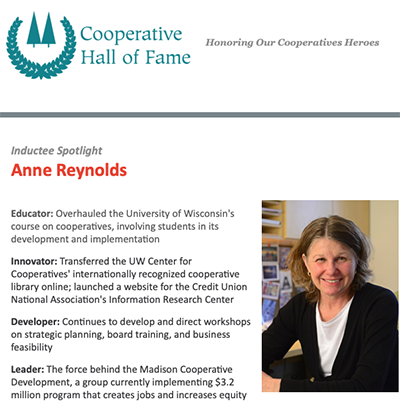 Cooperatives might be the world's "best-kept secret," but Anne Reynolds has spent her career making that secret a little less kept and a lot more accessible.
A fixture of the University of Wisconsin's Center for Cooperatives—the United States' premier cooperative research center—Anne has contributed significantly to scholarship on cooperatives. Her career has not only spanned co-op sectors, but bridged gaps; between strategic thinking and practical application and across deep ideological and cultural divides.
A native of Madison, Wisconsin, Anne earned her undergrad and graduate degrees from the University of Wisconsin-Madison. In 1987, she put her masters degree in Library Science to work at the Credit Union National Association (CUNA)'s Information Research Center, where she launched a website—at the time, the entire Wisconsin credit union system had only one other online presence.
In 1996, Anne joined the staff of the UW Center for Cooperatives, just as the center was beginning to transfer its internationally renowned cooperative library online. Anne's role at the center transitioned over the years; by 2014, she was Executive Director. Anne is also the "glue," as several colleagues describe her, holding many long-established conferences together, including the Farmer Cooperatives Conference and the Consumer Cooperative Management Association (CCMA) Conference. Her leadership style – listen first, act second – has made her an ideal event developer and manager able to merge disparate audiences and priorities seamlessly.
A mentor to many in cooperatives, Anne's sage advice and friendship has been particularly important to women in the field.
While Anne's contributions are respected nationwide and internationally, she left—and continues to leave—an indelible mark on her home community of Madison, Wisconsin, work that earned her the 2016 Badgers' Bioneers Award recognizing efforts to achieve economic sustainability.
Anne is the force behind the Madison Cooperative Development Coalition, a group of 24 community-based organizations, unions, and co-ops with a shared interest in economic democracy. The group is currently implementing a $3.2 million City of Madison program that creates jobs and increases equity by developing unionized worker co-ops. Mayor Paul Soglin said she was "deeply committed to creating a more sustainable and inclusive Madison."
And educator at heart, Anne continues to develop and direct workshops on strategic planning, board training, and business feasibility with organizations like Cooperative Network and CooperationWorks!
Add your name to the Friends of Anne Reynolds page.
---
The Cooperative Hall of Fame is administered by the Cooperative Development Foundation (CDF), the 501 (c)(3) non-profit affiliate of NCBA CLUSA. Nominations are received annually by the cooperative community, with the final selection made by the NCBA Board of Directors on the recommendations of a selection committee of national cooperative leaders. The Cooperative Hall of Fame Gallery is on display in NCBA CLUSA's offices in Washington, DC and also can be visited on the web at www.heroes.coop.