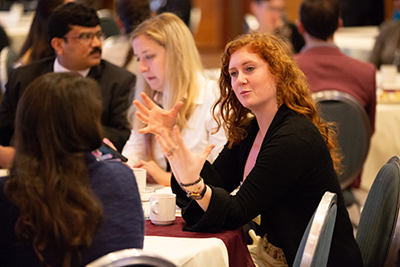 The 2019 Co-op IMPACT Conference is just one week away! There's still time to join NCBA CLUSA and your colleagues for this year's premier national, cross-sector cooperative event.
At IMPACT 2019, you'll take away stability and sustainability strategies from America's top co-ops; learn how to embed diversity, equity and inclusion into your work; and hear from policymakers on how co-ops are building stronger communities nationwide.
Don't miss your opportunity to help shape the conversation around principled, purpose-driven businesses and the people and communities that make them possible.
Register today and join us in building the next economy!
See the full agenda, or check out our plenary session snapshots below:
Will Broader, Inclusive Ownership Go Mainstream?
During her opening keynote, the Roosevelt Institute's Felicia Wong will put the cooperative business model in the context of other ideas for strengthening the economy through broader and more inclusive frameworks. She'll explore the signs pointing to a broader, more inclusive economy and how cooperatives can help drive that transformation.
Stability and Sustainability for the Future: America's Top 100 Co-ops
In a conversation moderated by National Cooperative Bank's John Holdsclaw, State Employees' Credit Union's Mike Lord and Agri-Mark/Cabot Creamery Cooperative's Ed Townley will share strategies that encourage economic stability and sustainability for co-op members and communities.
Creating Positive Growth for Women in the Co-op Community
Join DC Credit Union's Carla Decker and Jeanne Matson (past president and CEO of Starnet Commercial Flooring) for an interactive discussion on attracting and retaining women to the co-op community, tools for career advancement, mentorship and coaching, leadership development and more.
Co-op Policies for Stronger Communities: A State and Local Lens
Hear Anita Bonds (at-large councilmember, Council of the District and Columbia) and Sen. Julian Cyr (member, Massachusetts State Senate) discuss policies that empower people to use cooperative to have a greater stake in the places they live and businesses where they work. Moderated by University of Wisconsin Center for Cooperatives' Courtney Berner.
Community Impact: Co-ops in the Social Enterprise Landscape
Cooperatives are part of a diverse group of social enterprises designed to improve the financial, social and environmental well-being of their members, customers and communities. Moderated by Upside Down Consulting's Camille Kerr, Ed Mayo (secretary general, Co-operatives UK) and C.E. Pugh (CEO, National Co+op Grocers) explore what differentiates co-ops in this space.
The Road to Self-Reliance: Cooperative Engagement
Moderated by NCBA CLUSA's Alex Serrano, the U.S. Agency for International Development's Kimberly Rosen will highlight USAID's Journey to Self-Reliance and how cooperatives play a critical role in helping communities and countries lead their own development objectives.
The Challenge of Change: Staying Relevant
Featuring KPMG's Martin Chrisney, this plenary will unpack key trends in international development, business opportunities arising from a rapidly changing world and how businesses—including cooperatives—can stay relevant in the new international landscape.
THANK YOU TO OUR 2019 CO-OP IMPACT SPONSORS