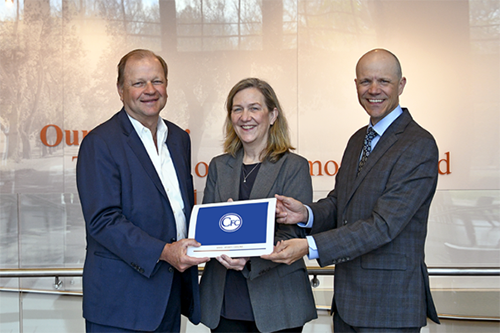 There's still time to help us reach our fundraising goal of $200,000 by the end of the month. Please consider contributing to the immediate and ongoing needs of Ukrainian cooperatives by 11:59 pm EDT on Saturday, April 30 to take advantage of the 100 percent match of donations up to $15,000 by HomeWorks Tri-County Electric Cooperative. 
Within several days of Russia's invasion of Ukraine, National Cooperative Business Association CLUSA International (NCBA CLUSA) president and CEO Doug O'Brien reached out to COOP Ukraine to offer assistance from the U.S. cooperative community.
Shortly after O'Brien heard back from COOP Ukraine Board Chair Illia Gorokhovskyi, NCBA CLUSA worked to determine how to raise and distribute funds to support Ukrainian cooperatives and their members.
"As cooperatives, we believe in the principles of Concern for Community and Cooperation Among Cooperatives," O'Brien said. "When we learned about the heart-wrenching news in Ukraine, I was able to connect with leaders of the Ukrainian cooperatives through our global association, the International Cooperative Alliance."
NCBA CLUSA and affiliate charitable nonprofit Cooperative Development Foundation (CDF) partnered with National Co+op Grocers (NCG) to launch a fundraising drive to support the Ukrainian cooperative community's immediate and ongoing needs during the crisis. CDF, a 501(c)(3), organized the efforts through its Disaster Recovery Fund.
"Since NCG has frequently partnered with CDF on domestic and international disaster recovery fundraisers, we reached out to them to see if they would be willing to help," CDF Executive Director Mary Griffin said. "NCG offered a donation match of up to $100,000 and issued a challenge to their food retail cooperative vendors and employees."
HomeWorks Challenges Electric Cooperatives to Contribute
On March 17, HomeWorks Tri-County Rural Electric in Portland, Michigan, committed a $15,000 donation and challenged rural electric cooperatives to contribute by April 30.
"HomeWorks employees overwhelmingly supported using funds from a canceled NRECA international project and thought of no better time or way to make a global impact than to ease the suffering of those in Ukraine," HomeWorks General Manager and CEO Chris O'Neill said. "I encourage electric cooperatives across the country to follow NCG's lead in contributing to Ukrainian relief by matching HomeWorks' initial $15,000 contribution. Ukraine will need continued support. They must not be forgotten."
CFC has met that challenge and is contributing $15,000.
"This is a great example of NCBA CLUSA working to develop, advance and protect cooperative enterprises and to build a better world," CFC CEO Andrew Don said. "I'm thankful to HomeWorks for taking the lead and challenging the electric cooperative network to support the cause."
COOP Ukraine is a network of consumer cooperatives that has created more than 200,000 jobs through 15,000 trade enterprises, 3,000 restaurants, seven hotels, 300 manufacturing business and shops, 300 markets, housing and education centers throughout Ukraine.
Contributions Can Help Save Lives
"The supply of goods is complicated. In order for cooperative stores to function, we need to change logistics, suppliers, look for alternative suppliers, provide security for our employees and much more," Gorokhovskyi said. "The most important thing now is saving people's lives."
Contributions are helping COOP Ukraine arrange for accommodations and meals for internally displaced Ukrainians. COOP Ukraine is also working with the Ukrainian government to move businesses and enterprises from combat zones to safer regions.
Through a partnership with Worldwide Foundation for Credit Unions, a small portion of funds went to the Polodian Regional Development Agency to support two shelters in Vinnystsia and to coordinate first aid training with the Vinnystsia Regional Center for Emergency Aid.
As of April 20, CDF has collected more than $167,000 to support Ukrainian cooperatives.
The Disaster Recovery Fund helps cooperatives and cooperators get back on their feet after disasters or other emergency hardship situations. All money donated to the Disaster Recovery Fund goes to support cooperatives. CDF does not charge an administrative fee for management of the fund. In the last five years, the Disaster Recovery Fund has provided more than $500,000 in grants to cooperatives, families and communities affected by disasters in the United States, Puerto Rico, the Bahamas, Uganda and Ukraine.
Members can contribute to the Disaster Recovery Fund directly.