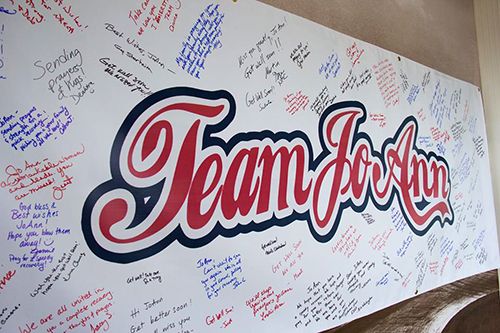 (October 22, 2015)
More than 200 people picked up race packets, snacked and socialized at the Cooperative Development Foundation's Virtual Co-op 5K events held in the Washington, D.C. area the week of October 19, 2015. The events took the place of the 27th Annual Co-op 5K, which was cancelled due to flooding caused by Hurricane Joaquin.
Events were held at the offices of the National Rural Electric Cooperative Association(NRECA), National Rural Utilities Cooperative Finance Corporation (NRUCFC), National Cooperative Bank (NCB) and National Cooperative Business Association CLUSA International(NCBA CLUSA).
Washington area cooperators were invited to show support for cooperative development and NRECA President and CEO Jo Ann Emerson, who continues to recover from a brain hemorrhage she suffered earlier this year. Participants enjoyed co-op treats from Cabot Creamery, Equal Exchange and the Greenbelt Co-op, and had a chance to win prizes from REI, NCBA CLUSA and many more donors. They also signed a "Team Jo Ann" Banner and a Notes to Jo Ann book, both of which the Emerson family will receive.
The events raised more than $80,000 for the Cooperative Development Foundation (CDF), which supports cooperative development through grant making and thought leadership. CDF also administers the annual Cooperative Hall of Fame, honoring cooperative leaders and innovators. Among CDF's projects is the development and expansion of home care worker cooperatives.
5K sponsors included NRECA, NRUCFC, NCB, Emmet Marvin & Martin, LLP, CHS Inc., CoBank, Loeb & Loeb LLP, National Co+op Grocers, NCBA CLUSA, Homestead Funds, Cuna Mutual Group, SEDC, National Information Services Cooperative, ACES, NTCA The Rural Broadband Association, Federated Rural Electric Insurance Exchange, ACDI/VOCA, Capital Impact Partners and National Grocers Association.
Photos from the Virtual Co-op 5K events can be found on the Cooperative Development Foundation's Facebook page. Please follow CDF's Facebook page for the latest information on next year's Co-op 5K, scheduled for October 1, 2016. To learn more about CDF, please visit www.cdf.coop.