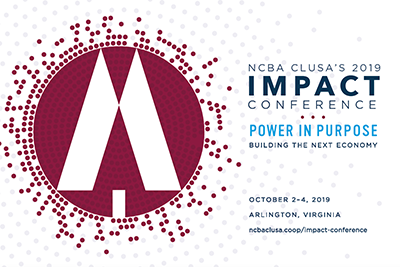 Time is running out to make plans to attend the 2019 Co-op IMPACT Conference next month. Don't miss your opportunity to be part of the conversation at this year's only national, cross-sector event for principled, purpose-driven businesses and the people and communities that make them possible. Register today and join us in building the next economy!
Then be sure to reserve your room at the Sheraton Pentagon City in Arlington, Virginia by Sunday, September 8 to lock in our exclusive IMPACT 2019 room rate of $169 per night. Book your room online or call the hotel directly at (703) 521-1900.
From Ed Townley, the CEO of Agri-Mark/Cabot Cheese, to District of Columbia Councilmember Anita Bonds, we've pulled together a robust docket of speakers representing foundations, government, financers and developers. See the full speaker lineup.
Our tracks this year span Co-ops in Communities, Co-ops in Business, Co-ops in Development and Purchasing Co-ops. As an attendee, you'll be part of the first-ever effort to establish the national policy strategy co-ops need to thrive. You'll also hear how member-owned business associations are expanding co-op impact and influence directly from the CEOs of three national associations of cooperatives, credit unions and mutual insurance companies.
You'll take away stability and sustainability strategies from America's top co-ops; learn how to embed diversity, equity and inclusion into your work; and hear how co-ops are scaling to address the ever-widening wealth gap in the U.S. See the full agenda.
On Friday, we're expanding our international content to include a full day of programming. With three tracks to choose from—Sustainability and Self-Reliance, Stability and Innovations in Co-op Development—attendees can participate in tailored sessions, while joining together for our plenaries: "The Road to Self-Reliance: Cooperative Engagement" and "The Challenge of Change: Staying Relevant."
THANK YOU TO OUR 2019 CO-OP IMPACT SPONSORS