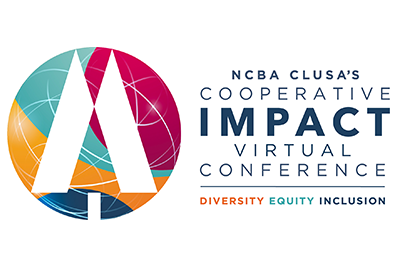 Under the theme, "Diversity, Equity and Inclusion," the 2020 Co-op IMPACT Conference will amplify how cooperatives are addressing their obligations to create diverse, equitable and inclusive workplaces and boards, and how co-ops can better meet the needs of communities that have been excluded from economic participation and advancement.
We hope you'll be a part of this year's fully virtual conference from October 5-9. Early-bird pricing is only in effect through August 15, so register now to lock in our exclusive rate of $25 for NCBA CLUSA members and $35 for non-members. After the early-bird registration period, IMPACT 2020 will cost $99 for members and $149 for non-members.
As always, our dedicated international development programming is available to practitioners free of charge.
Many of this year's IMPACT Track sessions focus on the intersection of COVID-19 and the opportunity cooperatives have to dismantle systemic racism and injustice and build an economy defined by true equity and inclusion. Keep reading for a snapshot of some of the sessions we're working to bring you this fall. You can see full descriptions of all our best-in-class programming here, and look for new sessions coming soon!
ACTIONS SPEAK LOUDER THAN INTENTIONS
Presented by FCC Services, this session will explore what it means (and doesn't mean) to have privilege and how privilege can be turned into allyship that moves us from intention to action. Attendees will learn to recognize privilege and unearned disadvantage, and shift from observer to ally.
ANALYZING, NAMING AND SHIFTING POWER DYNAMICS IN YOUR TEAM
Cooperatives are often formed in response to the destructive power dynamics of mainstream hyper-capitalism and oppressive systems. Still, even our own workplaces can sometimes prop up the harmful power dynamics we're trying to replace. Through presentation and simulation, you'll learn to identify the power dynamics in your team. Led by Round Sky Solutions' Rebecca Fisher-McGinty, this session will provide simple, yet powerful tools and frameworks to shift your team's power dynamics by strengthening democratic decision-making and communication.
BENEFICIAL ELECTRIFICATION: HELP AMERICA, PROTECT THE CLIMATE AND GROW ECONOMIC OPPORTUNITIES
Beneficial electrification means replacing direct fossil fuel use in homes with electricity in a way that both reduces emissions and cuts costs for homeowners. Moderated by NCBA CLUSA's Kate LaTour and featuring the Environmental and Energy Study Institute, this panel will highlight how electric cooperatives have pioneered this work, with a focus on equity in financing, and the empowerment beneficial electrification brings to those facing the highest financial burdens and highest barriers to opportunity. Inequities highlighted by the COVID-19 pandemic make the case for beneficial electrification even stronger.
BRINGING THE COOPERATIVE MODEL TO EQUITABLE SCALE
If 2020 has taught us anything, it's that our systems are failing working families and communities across our country. People want change. They want an economy where equity, resilience and inclusion are rooted in the workforce. Cooperatives have proven time and again to be the economic model that can respond to community needs and underserved populations. Now it's time to take the model to scale. Led by the Cooperative Development Institute's Doug Clopp, this panel will discuss the combination of federal, state and private support needed to create place-based, multi-sector cooperative ecosystems.
BUILDING AN EQUITABLE AND INCLUSIVE LOCAL CO-OP ECOSYSTEM IN WASHINGTON, DC
Featuring Capital Impact Partners, the Washington Area Community Investment Fund and the Overseas Cooperative Development Council, this panel will highlight the work of public officials, NGOs, activists and funders to build an integrated co-op ecosystem centered on social justice and racial equity in the District. During this session, panelists will highlight the progress of the DC Limited Equity Housing Task Force and offer updates on multiple initiatives and grants that promote building food and worker co-op ecosystems in Washington, DC. They'll also lift up how purchasing cooperatives are helping Black-owned businesses grow. Finally, panelists will raise co-op conversion as an effective strategy to preserve existing minority-owned businesses that service long-term residents of the District and are part of the social fabric of their neighborhoods.
DECOLONIZING THE U.S. CO-OP MOVEMENT: LESSONS LEARNED FROM THE AFRICAN AMERICAN COOPERATIVE MOVEMENT
African Americans in the U.S. have a long and vibrant but largely hidden experience of cooperative ownership since at least the 1700s. Led by John Jay College Professor of Community Justice and Social Economic Development Jessica Gordon Nembhard, this workshop will address examples of both white supremacist sabotage against Black co-ops, and white micro-aggressions and institutional racism that have limited and discouraged Black and Brown participation in the cooperative movement. It will also examine how African American cooperators and their co-ops have prevailed, and the pivotal role of African American women in this movement. Attendees will explore how subaltern populations use cooperative and solidarity economics to address marginalization, discrimination and poverty; and how to develop new strategies to build true equity and inclusion.
EDUCATING IN DIVERSE WAYS WITH COMMON STANDARDS FOR COOPERATIVE MANAGEMENT
From on-the-job training and workforce development to university degrees, learning is lifelong for cooperators—especially as the economy and nature of work continues to shift. Led by the CUNY School of Labor and Urban Studies' Rebecca Lurie, this interactive workshop will explore the common standards and values we promote, whether in face-to-face instruction or web-based learning. Learn the lessons being taught at the university level, in business schools and community-level workforce education. Participants will learn the best ways to reach a diverse workforce, and leave with clear, common and declared standards we can all uphold and celebrate.
ORIGINS, CONSEQUENCES AND HEALING: CHANGING THE CO-OP LEADERSHIP LENS
Communities of color have always understood the significance and impact of cooperation for both survival and success. Sincerely practiced, cooperation lifts up diversity, equity and inclusion at all levels: board, staff, membership and community. Still, the negative impacts of oppression continue, even within cooperative spaces. Led by the Groundswell Center for Local Food and Farming's Patrice Lockert Anthony, this session will shift your perspective. The lens most of us use to make decisions and extend judgments is the same lens our Founding Fathers used to build a country that benefits only some of its citizens. The cooperative democratic process offers a unique opportunity to demonstrate what is possible for all Americans when that lens is changed. Through a multimedia presentation and role play, you'll learn to welcome historically marginalized or underrepresented communities, reach beyond your usual audience and move from intention to action.
STATE OF THE CO-OP ECONOMY: COOPERATIVES, COVID-19 AND KEY OPPORTUNITIES TO CREATE A BETTER WORLD
Join members of the Council of Cooperative Economists as they discuss how cooperatives across all sectors are working to respond to specific opportunities cooperatives have during the COVID-19 pandemic to make their communities more equitable and inclusive. Moderated by NCBA CLUSA's Tamela Blalock, this panel will cover the experiences of diverse communities across the U.S. and beyond. Each researcher will present research to ground their analyses of the current solvable opportunities co-ops face, both generally and by specific sector.