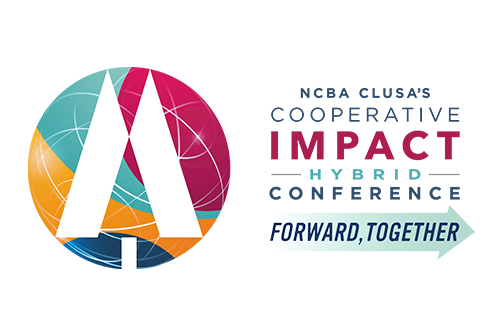 We're a month out from this year's Cooperative IMPACT Conference, the only national, cross-sector event attended by hundreds of co-op developers, financers, community and city leaders, innovators, thought leaders, economists, policymakers and international development practitioners.
For the fourth year, NCBA CLUSA is partnering with the U.S. Overseas Cooperative Development Council (OCDC) to bring a rich and diverse International Track to the IMPACT Conference. As a strategic IMPACT partner, OCDC and its members bring a global perspective to the event and are rooted in a commitment to building a more prosperous world through cooperation. Made possible by the U.S. Agency for International Development, our International Track is generously sponsored by OCDC and its members.
That means, once again, this year's dedicated international programming is available free of charge. During registration, choose "Virtual International" or "In-Person International"* from the Registration Type dropdown. International Track attendees will have access to all sessions labeled "International Track," as well as all joint breakfast and lunch sessions.
Through keynote speakers and dynamic and engaging panel discussions, the International Track at this year's Cooperative IMPACT Conference will explore how cooperatives around the world are moving forward—together—through locally-led development.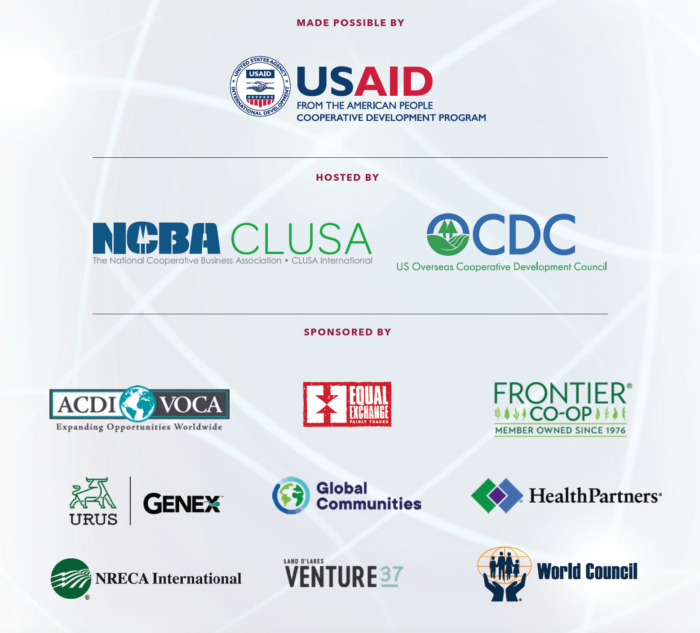 Through keynote speakers and dynamic and engaging panel discussions, the International Track at this year's Cooperative IMPACT Conference will explore how cooperatives around the world are moving forward—together—through locally-led development. On Wednesday, October 5, we'll kick off our International Track with a session exploring how cooperatives, as businesses owned and democratically managed by their members, are uniquely suited to drive locally-led development. Then we'll unpack how co-ops can best position themselves to advance donor priorities. On Thursday, October 6, Illia Gorokhovskyi, chair of COOP Ukraine's Board of Directors will join us in person for a session exploring the legacy of cooperatives sustaining their communities during times of conflict and crisis. From the first CARE Package™ sent to post-war Europe in 1946 to the recent groundswell of support from the global cooperative community for cooperators in Ukraine, co-ops have a track record of putting their value of solidarity into practice. The International Track will close with the presentation of OCDC's International Co-op Innovation Award.
Check out the session descriptions below, and look for more details on programming and speakers the coming weeks!
Cooperatives as Engines of Locally-led Development: Evidence from the Field
Most development practitioners and policymakers support the concept that "good" development is "locally led"— meaning that local individuals and organizations, rooted in their communities, know best about their circumstances, needs and priorities. As businesses owned and democratically managed by their members, cooperatives are uniquely suited to organically respond to the economic and social needs of their communities.
Moderated by a USAID representative, this session will begin by outlining the implications of operationalizing localization reform. Then, the U.S. Overseas Cooperative Development Council (OCDC) will share the main findings from a white paper that delves into the cooperative business model and its potential for broadening and deepening this concept of localization. Finally, cooperative development organizations such as Frontier, Venture 37 and NCBA CLUSA and their local partners will provide some additional insights on field level observations for locally led development efforts. This session should both inspire and inform by bringing together development reform and tangible examples of how the cooperative principles are driving locally led development.
Featuring USAID, OCDC, Frontier Co-op, Venture37 and CONFENACOOP
Using the Cooperative Model to Advance Donor Priorities
As the Rockefeller Foundation Co-Impact Statement of Purpose reads, "By banding together around common themes and a commitment to results, philanthropists have the power to dare social innovators to build bigger and bolder, empowering them to create the breakthrough solutions that will help billions of people rise out of poverty and vulnerability." What are these "common themes" or priority areas where results are expected by donors? And how can cooperatives contribute to their advancement?
This session will address the role for cooperatives in helping donors achieve their key development goals. The U.S. Overseas Cooperative Development Council (OCDC) will provide evidence from the "What Difference Do Cooperatives Make" study demonstrating why cooperatives are key partners for donor strategies around broad-based/inclusive growth, food security, environmental sustainability, social and financial inclusion, leadership and empowerment of the most vulnerable social groups. Our panel, representing public, private and multilateral/international donors, will share their current priorities and how co-ops can advance their work.
Featuring the Cooperative Development Foundation, OCDC, USAID, International Finance Corporation and Rockefeller Foundation.
Cooperatives in Times of Crisis
By their nature and their deep community roots, co-ops are natural vehicles for helping their members and communities respond to shocks—from the COVID-19 pandemic to the war in Ukraine.
Research by the U.S. Overseas Cooperative Development Council (OCDC) indicates that cooperative initiatives and programs foster resilience at both the community and the individual household level, enabling them to cope better when faced with emergencies and crisis. Similarly, the International Cooperative Alliance (ICA) has captured the co-op community's global response to COVID-19 and what may be the unique contributions of co-ops in a time of crisis.
Similar to how co-ops helped rebuild Europe after World War II by establishing CARE, co-ops today are stepping forward to support the Ukrainian co-op community. Over the last two years, co-ops have also responded to diverse impacts that the pandemic has had on communities around the world. They have stepped in to provide vital, trustworthy information, and personal protection equipment to their members. They have shared scarce resources to support those most in need among their membership and communities. Most importantly, they became oases of solidarity, humanity and social capital amid the challenges of social isolation and uncertainty.
Featuring COOP Ukraine, WOCCU, National Co+op Grocers and USAID
Cooperatives and Social Inclusion: Barriers and Best Practices to Overcome Them
The last half decade has seen significant setbacks to advances in social inclusion of women, youth, Afro descendants, LGTBQI+ and other historically marginalized communities. Accomplishments that resulted from decades of work and education are being eroded. Cooperatives, like all organizations, must be intentional about including—and reflecting—all community members who share the co-op values and principles. The participation of women and youth in cooperatives has increased over the last few decades. Still, cooperatives are far from reflecting the diversity of the communities where they are located. Important barriers remain that hinder their participation in membership—particularly within producer and worker cooperatives.
In this session, cooperative leaders will share their organizations' experience in identifying barriers to the inclusion of women, youth and other marginalized groups in co-ops, and what they have done to successfully overcome them, including NCBA CLUSA's own experience with advancing its Diversity, Equity and Inclusion initiative both domestically and abroad. While achieving more inclusive and equitable communities and societies is not something cooperatives can achieve by themselves, speakers will put forward recommendations on how to ensure cooperatives are contributing all their potential towards that shared vision.
Featuring IDB Federal Credit Union, WOCCU, Global Communities, ACDI VOCA, NRECA International and International Cooperative Alliance
A note for those joining us in-person*
Looking for accommodations while you're in Washington, DC for IMPACT 22? We've partnered with the Hilton Garden Inn at 815 14th St NW, Washington, DC 20005—just .3 miles from The National Press Club—to reserve a room block for IMPACT Conference attendees. These rooms are limited in quantity and availability for October 4-7, 2022 at the exclusive rate of $219 per night, not including taxes.
Learn more about accommodations here
---
*NCBA CLUSA will comply with all COVID-19 mandates and policies provided by both the Centers for Disease Control (CDC) and the local government of Washington, DC regarding the safety of in-person meetings. Please note that our in-person programming at the National Press Club will comply with the club's COVID-10 Safety Guidelines. 
THANK YOU TO OUR IMPACT CONFERENCE STRATEGIC PARTNERS