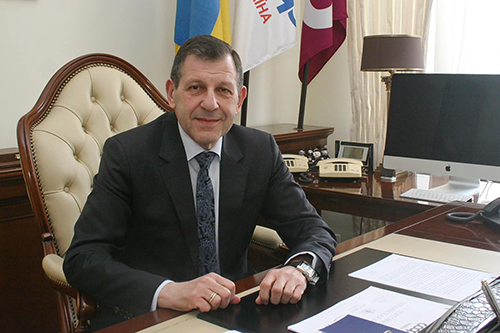 The National Cooperative Business Association CLUSA International (NCBA CLUSA) is thrilled to announce that Illia Gorokhovskyi, chair of COOP Ukraine's Board of Directors, will join us in person at the 2022 Cooperative IMPACT Conference.
Broadcast live from the National Press Club on Thursday, October 6, Gorokhovskyi will take part in that day's opening plenary, featuring remarks from Michelle Nunn, CEO of CARE, established in 1945 as the Cooperative for American Remittances to Europe in part by a grant from the Cooperative Development Foundation (CDF), the 501(c)(3) affiliate of NCBA CLUSA. Today, CARE is an international humanitarian aid organization.
Gorokhovskyi will also speak on a panel called "Cooperatives in Time of Crisis," moderated by Carla Decker, COO of IDB Federal Credit Union and chair of NCBA CLUSA's Board of Directors. During this session, panelists will explore the legacy of cooperatives sustaining their communities during times of conflict and crisis—from the first CARE Package™ sent to post-war Europe in 1946 to the recent groundswell of solidarity from the global cooperative community for cooperators in Ukraine. Decker and Gorokhovskyi will be joined by a senior representative from the World Council of Credit Unions (WOCCU) and other co-op leaders.
Earlier this year, Gorokhovskyi met with leaders from the U.S. cooperative community in Seville at the International Cooperative Alliance (ICA)'s General Assembly. He explained that decades of infrastructure built by generations of Ukrainian cooperators had been destroyed in a matter of minutes by Russian bombs and missiles.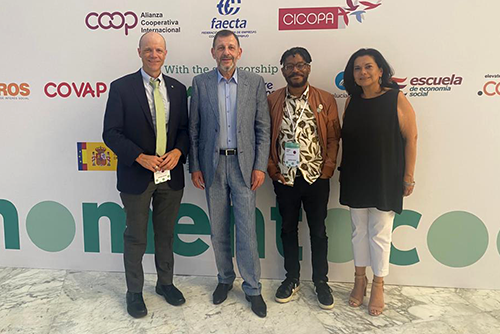 Still, Ukrainian cooperatives are working to provide essential goods and services. In one example, a co-op bakery in Chernihiv worked nonstop for 52 days, baking 4,000 loaves of bread in wood-burning ovens amid the roar of missiles to feed their community. Overall, COOP Ukraine provides services to more than 40 percent of the country's rural areas and 10 percent of its urban hubs.
Donations from cooperators in the U.S. who contributed to the Cooperative Development Foundation (CDF)'s Disaster Recovery Fund are supporting these acts of courage and resilience. Internally displaced people (IDP) shelters in Ukraine's Vinnytsia region are now equipped to prepare and store food, thanks to donations to the fund. Since February, the fund has raised more than $273,000 to help meet the immediate and ongoing needs of Ukrainian cooperators.
"This is an opportunity to prove that the fundamental principles of cooperation are mutual assistance and solidarity are not just slogans," Gorokhovskyi said in Seville. "Today, they convey a deeper meaning and message. They are reminders to you and the world that the cooperative idea both lives and wins."
Now, six months into the war, the cooperative principles remain the "key to survival in difficult times," Gorokhovskyi said in a news release marking Ukraine's Independence Day. Co-ops in Ukraine continue to navigate this challenging time by establishing new supply chains to stock their 15,000 co-op stores, keeping co-op bakeries up and running to supply critical food, and housing IDPs within their extensive network of colleges and universities.
"We still have a lot of work ahead of us—to achieve victory, to rebuild our country… and to demonstrate to the world that Ukrainians are able to build a powerful and democratic state," Gorokhovskyi said.
"I love my country and ask that you stand with me united in true cooperation."