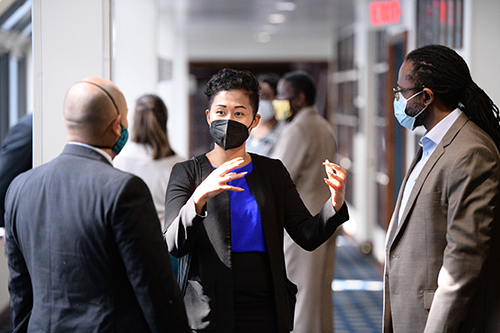 The 2022 Cooperative IMPACT Conference is just two weeks away! We're putting the finishing touches on 20 sessions led by close to 60 speakers who will challenge cooperators around the world to capture a generational opportunity—applying the lessons we've learned from the past two exceptional years to our work as we move forward.
Don't miss out on this opportunity to join hundreds of co-op developers, financers, community and city leaders, innovators, economists, policymakers and international development practitioners—all committed to advancing cooperative enterprise. Register now to be part of the only national, cross-sector event elevating the national conversation around a trusted, proven way to do business and build communities. This annual event is an unparalleled platform to reenergize the cooperative movement and galvanize its champions around building a more inclusive economy.
With two days of programming, 20 sessions and close to 60 speakers, IMPACT 2022 will challenge the cooperative community to capture a generational opportunity—applying the lessons we've learned from the past two exceptional years to our work as we move forward, together.
Check out this year's programming
Keep reading to learn about this year's tracks. We're excited to see you in October—virtually or in person at the National Press Club!
Diversity, Equity and Inclusion Track
Presented by the Cooperative Development Foundation (CDF) and sponsored by the Robert Wood Johnson Foundation, our Diversity, Equity and Inclusion Track will unpack lessons from CDF and NCBA CLUSA's multi-year peer learning cohort of co-op leaders representing 41 co-ops dedicated to advancing the DEI conversation across the cooperative community. You'll learn about efforts to make sure the cooperative principles serve and include everyone—especially historically underserved communities. And you'll hear directly from members of the peer learning cohort who spent the past year testing whether co-op principles advance social and economic equity among low-income communities and communities of color. Featuring stories about democratic governance and empowerment, DEI and financial security and advancement, the Fall 2022 issue of the Cooperative Business Journal will complement this track.
IMPACT Track
Our IMPACT Track sessions will advance the conversation around climate action, Principle 6, equitable co-op ecosystems, historically underserved farmers and more. From the U.S. Federation of Worker Cooperatives, we'll learn how to innovate together using a diversity of secondary co-op forms to meet emergent needs and reach new cooperators. Another session will inspire attendees to collectively build a coalition around climate action within the cooperative movement. We'll hear the latest from our new U.S. Department of Agriculture (USDA)-funded project to create a community-led cooperative development ecosystem to support historically underserved farmers, ranchers and other socially disadvantaged groups in rural America. And during a session sponsored and led by National Cooperative Bank (NCB), panelists moderated by NCB president and CEO Casey Fannon will explore opportunities for improving access to capital for co-ops in the U.S.
International Track
This year's International Track will explore co-ops as engines of locally-led development; using co-ops to advance donor priorities; co-ops in times of crisis; and co-ops and social inclusion. These sessions are free of charge and made possible by the U.S. Agency for International Development (USAID) and generously sponsored by our strategic partner the U.S. Overseas Cooperative Development Council (OCDC) and its members. On Thursday, October 6, Illia Gorokhovskyi, chair of COOP Ukraine's Board of Directors will join us in person for a session exploring the legacy of cooperatives sustaining their communities during times of conflict and crisis. From the first CARE Package™ sent to post-war Europe in 1946 to the recent groundswell of support from the global cooperative community for cooperators in Ukraine, co-ops have a track record of putting their value of solidarity into practice.
---
NCBA CLUSA will comply with all COVID-19 mandates and policies provided by both the Centers for Disease Control (CDC) and the local government of Washington, DC regarding the safety of in-person meetings. Please note that our in-person programming at the National Press Club will comply with the club's COVID-10 Safety Guidelines. 
THANK YOU TO OUR IMPACT CONFERENCE STRATEGIC PARTNERS