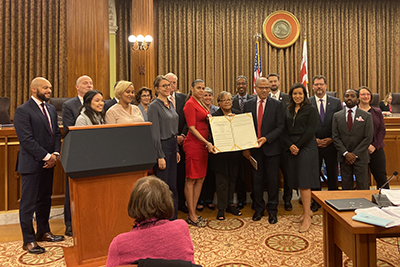 Anita Bonds, at-large councilmember for the Council of the District of Columbia, officially recognized October 2019 as National Co-op Month with a resolution that sheds light on limited-equity housing cooperatives as a strategy to build stronger communities.
"I am pleased to stand with the members of the Committee on Housing and Neighborhood Revitalization and the Limited-Equity Cooperative Task Force to present the National Co-op Month Recognition Resolution of 2019," Councilmember Bonds said during the October 8 ceremony.
"This moment is a celebration of the diversity that exists among the district's affordable housing stock and our shared commitment to alleviate the housing affordability crisis," she added.
In 2018, the Council of the District of Columbia established the Limited Equity Cooperative Task Force to provide policy recommendations on how the district can support the formation of new limited-equity co-ops (LECs) and help struggling LECs improve their governance and finances to achieve stability.
The resolution notes that limited-equity housing cooperatives should be a priority because they make home ownership possible for more families and play a critical role in keeping housing affordable for low- and moderate-income residents if the district.
More broadly, the resolution commends the cooperative business model as "an effective means for individuals and families with limited resources to unite and fulfill their needs."
It concludes by recommending that the District of Columbia work to educate and engage owners.
In response, the National Association of Housing Cooperatives released a statement calling the resolution a "huge acknowledgement by our nation's capital that promotes and affirms that housing cooperatives are an answer to the affordable housing crisis facing our nation."