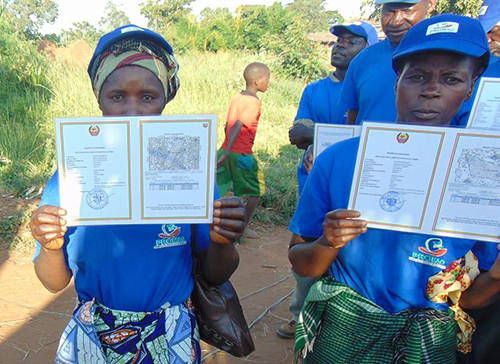 NCBA CLUSA's Conservation Agriculture Program for Smallholder and Emerging Farmers in Mozambique (PROMAC) is helping curb land disputes and create stability by securing property rights for thousands of farmers in the Southeast African country.
At an April 21 ceremony, 29 farmers—almost half of whom are women—received government-issued land titles. The group is part of a larger unit of 402 farmers whose land rights have been submitted to Mozambique's Provincial Geographic and Cadastral Services for official processing.
Paulo Auade, governor of Mozambique's Tete Province, attended last week's ceremony and called NCBA CLUSA a "partner" with the government in securing land rights, which he said reduce conflict and allow farmers to preserve their land for future generations.
By its close in 2017, PROMAC aims to acquire close to 3,000 land titles, securing property rights for 2,920 families. The land titles are permanent, and a transfer can occur only if initiated by the family, said Carolina Reynoso, senior operations manager for NCBA CLUSA in Mozambique.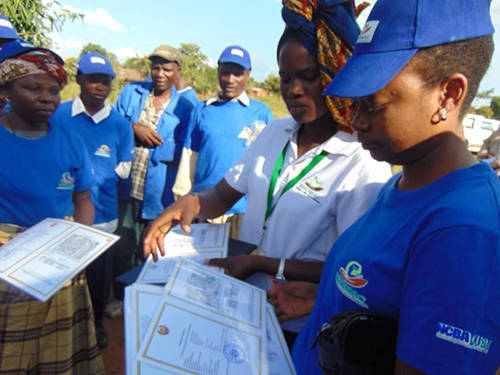 Direito de Uso e Aproveitamento dos Terras (DUATs), or "right to use and benefit from land" certificates are coveted in Mozambique, where land concessions have displaced thousands of farmers. Land registration not only secures farmers rights to their property, but also creates an incentive to invest in land improvement, soil conservation and new technology.
NCBA CLUSA coordinates with local governments and institutions to support each step of the process: raising awareness of land ownership benefits, conducting community consultations, facilitating land demarcation field surveys and distributing cement blocks to mark property boundaries.
In addition to providing support, PROMAC funds each land title, Reynoso said. "The entire process to obtain an individual land title costs $481″—a cost that far exceeds the budget of a typical rural smallholder farming family.
Funded by the Embassy of Norway in Maputo, NCBA CLUSA's $14.4 million PROMAC project is helping reverse endemic food insecurity in Mozambique by encouraging the adoption of conservation farming techniques proven to boost yields, profits and soil fertility. PROMAC's integrated approach also provides basic literacy and numeracy training and supports land registration. To date, PROMAC has helped 402 farm families secure property rights.