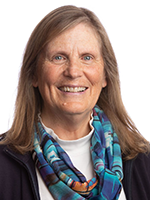 Tune in to WOL 1450 AM, 95.9 FM and WOL Live Stream, October 14. 2021, 10:30 am Eastern, for Everything Co-op, hosted by Vernon Oakes. This week we present our final tribute to the 2021 Cooperative Hall of Fame Inductees, with Karen Zimbelman, Sr. Director of Membership and Cooperative Relations at National Co+op Grocers. Vernon and Karen will discuss her experiences over her career in the cooperative movement.
Karen Zimbelman's cooperative career began in the 1980s at the North American Students of Cooperation (NASCO) where she implemented board of director trainings. Over her 40-year career, she has organized hundreds of trainings benefiting thousands of cooperative board members. Since then, Karen has worked at North Coast Co-op, NCBA CLUSA, Rochdale Institute, and National Co+op Grocers (NCG). After three years as North Coast Co-op's Director of Membership and HR, Karen began her next career phase as a cooperative consultant. During this time, she served as the newsletter editor for the Association of Co-op Educators, developed a tailored co-op orientation manual for food co-op staff, and served as the Executive Director for the Cooperative Grocers' Information Network (CGIN), the Northwest Cooperative Grocers' Association (NWCGA) and Pacific Cooperative Grocers' Association (PCGA).
Under Karen's leadership, CGIN became a vital consumer co-op resource housing an extensive library of job descriptions, operation manuals, recipes, board training, and much more. During Karen's time at CGIN, she authored and published a manual to instruct others on How to Start a Food Co-op. This manual became the foundation of Food Co-op Initiative's Guide to Starting a Food Co-op.
As the founding Executive Director for two regional cooperative grocers' associations, Karen established and managed regional supply agreements, promotions, training, audits, and other programs. In that role she became a contributor to a movement to form a national food co-op association -– an effort that ultimately resulted in the formation of the National Co+op Grocers. Today, NCG represents 148 food co-ops in 39 states with over 1.3 million consumer-owners, unifying natural food co-ops in order to optimize operational and marketing resources and strengthen purchasing power. Karen's sincerity, intensity, and zeal for the cooperative way has created institutions that will live as a part of her legacy.