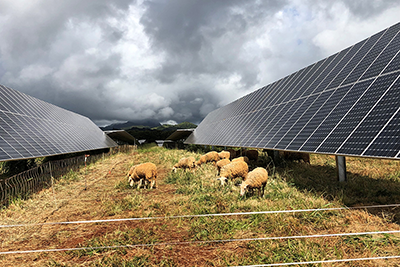 Thanks to strategic planning, progressive engineering and solid negotiating, Kaua'i Island Electric Cooperative is years ahead of schedule in meeting its renewable energy goals and is reducing its annual diesel demand by millions of gallons.
"Renewable generation is meeting close to 99 percent of our demand during midday on most sunny days," said David Bissell, president and CEO of Lihue, Hawaii-based KIUC.
The co-op launched a strategic goal in 2010 to meet 70 percent of its overall demand with renewable energy by 2030, and it hit the 50 percent mark late last year. KIUC's renewable assets include co-op-owned solar and hydroelectric facilities as well as power purchase agreements for utility-scale solar and battery storage and biomass generation.
"With a full 12 months of productivity from the Tesla solar-plus-storage facility, nearly 45 percent of KIUC's fuel needs can be met from renewable sources," said Bissell, adding that up to 20 percent of evening peak demand can be powered with stored solar energy.
Much of the motivation for pursuit of renewable resources stems from desire to reduce overall dependence on fossil fuel generation. The island has relied on diesel shipped from refineries along the West Coast of the mainland United States. KIUC's average cost of diesel in 2018 was 15 cents per kWh.
"When we became a cooperative in 2003, our rates were 78 percent higher than rates on Oahu," the most populated Hawaiian island, Bissell said. That cost difference fell to 17 percent by the end of 2017. "This is a trend that we expect will continue over the next several years as we replace the volatility of diesel pricing with renewables at 11 cents per kilowatt hour or less."
A new 28-megawatt photovoltaic system coupled with a 100 MW-hour storage system was commissioned in January, and it's the largest yet developed for utility use in the world. The project's five-hour energy storage capacity is expected to provide peaking capacity during high demand periods and meet up to 11 percent of the co-op's overall needs.
The system, owned by AES Corp., is expected to reduce KIUC's overall diesel demand by about 3.7 million gallons a year.
AES Corp. is building a second solar-battery storage project for KIUC as a joint project with the Department of Defense. The 19 MW of capacity and 70 MWh of battery storage will help meet co-op demand and support the Navy's Pacific Missile Range Facility at Barking Sands when needed.
"We could not achieve our goals without the effort of our dedicated workforce, the governance of a member-elected board of directors, effective partnerships with public and private entities, and the support of our elected officials," said Allan Smith, chairman of the KIUC board. "Member support of the investments is among the co-op's greatest strengths."