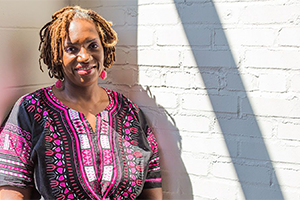 Tune in to WOL 1450 AM and Tune-in Radio, on July 16 at 10:30 am, for Everything Co-op. This week, host Vernon Oakes interviews LaDonna Sanders Redmond, an intercultural development consultant with Columinate.
At Columinate, LaDonna provides training and coaching in Diversity, Equity & Inclusion. LaDonna was the former diversity and community engagement manager at Seward Community Co-op, where she led Seward's diversity and engagement initiatives which contributed positively to its organizational culture, marketplace competitiveness, and social responsibility.
Redmond, is a community activist who has worked on several public health issues throughout her career such as substance abuse, violence and food justice. She successfully worked to get Chicago public schools to eliminate junk food, launched urban agriculture projects, started a community grocery store and worked on federal farm policies to expand access to healthy foods in communities of color.  LaDonna is a WK Kellogg Food and Society Policy Fellow, and was one of 25 citizen and business leaders named a Responsibility Pioneer by Time Magazine. She also has a popular Tedx talk – Food + Justice = Democracy.
Founded in 1994, Columinate focuses on its clients' most critical issues and opportunities, which include strategic planning, marketing, leadership development, retail operations, technology, feasibility and viability, governance, as well as diversity & inclusion. With over 40 consultants, Columinate is a national consulting cooperative serving mission-driven organizations, including food co-ops, electric co-ops, healthcare organizations, credit unions, schools, and nonprofits. The consultants bring a deep understanding and extensive expertise, while providing a holistic approach to solving problems and creating opportunities for its clients.