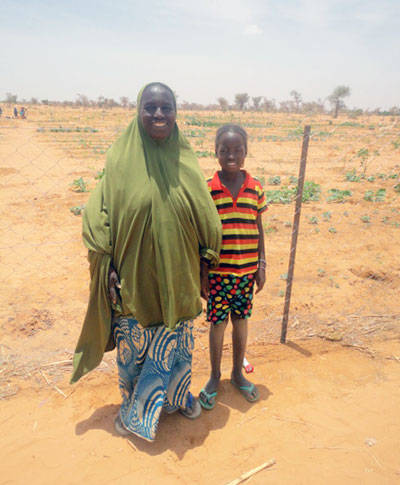 It's the hot season in Niger. The sun filters through the millet stalk roof of the shade hangar we sit beneath. Ramatou Yaye, a 48-year-old mother of six, gestures behind her to a large garden protected by durable fencing.
"It used to be that my family ate vegetables only one season per year. Now, with the help of Arziki, we can eat and sell vegetables year-round. It has changed our lives," she says.
Arziki, NCBA CLUSA's USAID-funded Niger Food Security Program means "prosperity" in Niger's local languages of Hausa and Zarma. This four-year, $12.7 million project works with small-holder farmers in Niger to enhance food security, improve adaption to climate change and increase livelihoods.
The garden in Gao Taweye—one of twenty started by the Arziki project in the Tilaberri region of Niger—is 1,500 square meters of previously unused land now run by a women's group with 153 members. The women have named the group "Niyaa" meaning "intention"—their intention being to move toward a brighter future. The Arziki project provided metal fencing, a well and the first seeds for planting new crop varieties before last year's rainy season.
Before the project is implemented in a village, the village chief must sign an official land-use lease giving the women at least 25 years' rights to the land. This innovative feature prevents men in the village from repossessing the gardens once the well and fencing have been installed. Additionally, these gardens act as climate change agents, rehabilitating previously biodegraded land.
Each of the 20 gardens started by the Arziki project sent two representatives to attend an Arziki-funded training session on improved gardening techniques. These pairs of women then returned to their villages and trained the remaining women in the women's groups resulting in more than 3,000 women trained. Ramatou's story is not unique among these women.
With fencing to keep out the animals, and a well close enough to water the crops regularly, Ramatou said she is able to earn money for the first time in her life. "With the money we have earned from selling vegetables, I have brought my daughter to the health center twice, and I was able to buy new school clothes for my children," she says.
Ramatou's children and many others are assisting their mothers with the garden work. An entire generation of children is growing up in an environment where improved gardening techniques and income-generating activities are a reality. Theses changes are passed down, generation-to-generation, helping create a brighter future.
Ramatou puts an arm around her daughter, Safia, sitting beside her, "We are full, I swear to God. Thank you."