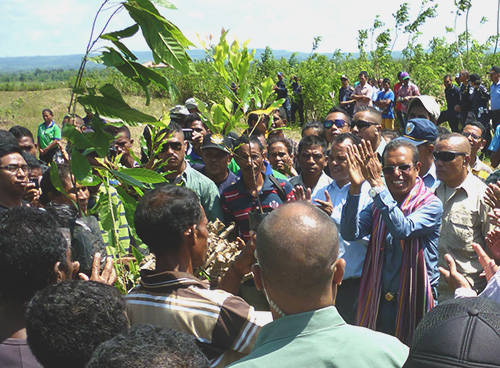 (January 27, 2015)
A new seedling nursery, demonstration center, and training and technology facility in Timor-Leste is expected to boost and diversify income sources for rural smallholder farmers in the Southeast Asian country, as well as increase their food security, nutrition and participation in the export of high-value crops.
The facility will directly impact beneficiaries of the Timor-Leste Agribusiness Development Project, implemented by NCBA CLUSA and funded by the U.S. Department of Agriculture's "Food for Progress" program since 2013.
The January 26 launch of the Los Palos Seedling Nursery drew the attention of President Taur Matan Ruak, Timor-Leste's national leader; the country's respective ministers of Education, Agriculture and Health; local government officials; and U.S. Ambassador to East Timor Karen Stanton.
According to a press release posted on his official Facebook page, President Ruak urged the group gathered to work together toward making the facility a success, adding that "your success is our success, and our country's success as well."
The Food for Progress program helps developing countries and emerging democracies modernize and strengthen their agricultural sectors. U.S. agricultural commodities donated to recipient countries are sold on the local market, with proceeds going toward supporting agricultural, economic or infrastructure development programs.
The Timor-Leste project is "striving to alleviate poverty through Food for Progress' twin goals of increasing agricultural productivity and expanding trade of high-value agricultural products," Ambassador Stanton said in her remarks at the launch.
"This project is yet another example of the U.S. Government's commitment to Timor-Leste's economic growth and stronger trade ties with the United States," she added.
Stanton also applauded NCBA CLUSA and its local partner Cooperativa Café Timor (CCT) for demonstrating "dedication" to the project's successful implementation. Owned by 23,000 smallholder farmers, CCT is Timor-Leste's largest private-sector employer and its leading agricultural processor and exporter. NCBA CLUSA supported the formation of CCT in 1994 and continues to mentor the organization.
Donated to the project by the country's Ministry of Agriculture, the facility includes four shade house nurseries to accommodate 600,000 seedlings, a 42-acre seedling farm planted with improved commercial varieties of mango and other fruits and project staff housing and offices. The facility also boasts a demonstration farm, training and technology center and crop purchasing and processing facility. In the coming year, the facility is expected to add a crop solar-drying and warehousing facility with a storage capacity of 2,000 metric tons.At a jointly-held ceremony, President Ruak presented seedlings to farmers from the 36 villages participating in the project from the local Lautém District.
Additional representatives from the other intervention districts were on hand to receive project-produced seedlings on behalf of their communities and schools. Widely covered by national media, the distribution was symbolic of a larger one that began in December.The distribution of cocoa, coffee, cloves, pepper, moringa, mango, durian and cassava seedlings will continue through February, when it's anticipated that all crops will be in the ground, said Sam Filiaci, NCBA CLUSA regional director for Southeast Asia."The project will distribute well over one million seedlings to project beneficiaries over this three-month period," Filiaci said. "This distribution is on a scale that has by far never happened in the agriculturally challenged eastern half of the country."

None of these improved seedling varieties have ever been produced in Eastern Timor-Leste, and were introduced to local farmers by the project, Filiaci added.
The Timor-Leste Agribusiness Development Project is directly benefiting 8,000 Timorese farmers and indirectly impacting some 40,000. In a related move, Cooperativa Café Timor will increase its moringa seedling production to meet demand created by a government campaign to introduce moringa production to every district in the country.

[photo: courtesy www.facebook.com/presidenciatl]