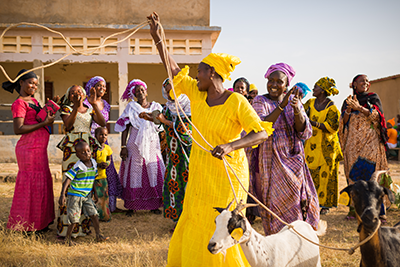 NCBA CLUSA joined Save the Children and more than 60 other organizations on Friday to sign a letter to Acting Administrator John Barsa with recommendations for gender mainstreaming the U.S. Agency for International Development (USAID)'s response to COVID-19.
The current global pandemic "heightens the urgency," the letter states, "of ensuring that gender equality is at the heart of all U.S. Government foreign policy and assistance efforts."
The crisis, the letter continues, is amplifying existing gender inequalities, leading to increased instances of gender-based violence, disruptions to essential education and health services, less access to decision-making and policy spaces, and reduced ability to engage in economic life.
The letter closes by urging Acting Ambassador Barsa to consider taking seven concrete actions:
Mandate both immediate and ongoing consultation with gender technical experts not only within the E3 bureau, but also the thematic and regional bureaus to ensure the mainstreaming of a gender lens throughout all of USAID's COVID-19 response efforts;
Reinforce the essential need for gender-sensitivity within USAID's COVID-19 efforts, and emphasize the importance of using the forthcoming USAID gender and COVID-19 guide as a critical reference tool;
In using the new expedited hiring authority, highlight the need for more dedicated gender staff positions with appropriate expertise within USAID;
Ensure that USAID's COVID-19 response is informed by women's and girl's rights organizations at home and abroad;
Name a gender technical expert to the USAID's COVID-19 Task Force to facilitate gender mainstreaming across the task force's work;
Prioritize and support the systemic collection, analysis and use of data disaggregated by sex and age at minimum, and ideally disaggregated further to ensure that other identity factors that drive inequalities and can exacerbate needs are surfaced and responded to; and
Ensure all global response and recovery efforts are informed by a gender analysis, and comply with the gender analysis and gender equality and female empowerment integration requirement of the Women's Entrepreneurship and Economic Empowerment Act.