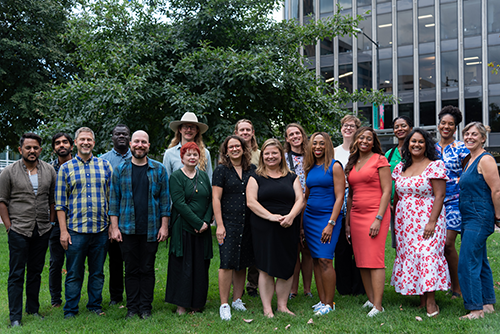 Earlier this month, Start.coop connected and collaborated in-person for their Kick-off Week at NCBA CLUSA headquarters in Washington, DC. Keep reading to meet the eight co-ops selected for Start.coop's first ever Fall Accelerator.
📚 Bitterroot Books (Tennessee) is a worker- and author-owned cooperative, Bitterroot publishes books that represent the diversity, heart and deep connection to place that exists in the stories of rural America.
🐛 Bookworm (California) is a social app and book tracker for today's readers. Start tracking your books and download the app at bookwormreads.co.
⚰️ DeathApp (Colorado) is a quiz-based mobile app designed to support death preparation and awareness. Learn more and download the app at deathapp.live.
🏥 FwdSlash (Tennessee/New Jersey/Maryland) is redesigning the social safety net by braiding housing, healthcare and social services to ensure that communities can take care of all of its people. You can learn more at fwdslash.org.
💰 Organizing Money (New York) is a cooperative of worker and community organizations that leverages scale and trust to negotiate and deliver best-in-class consumer financial products. Organizing Money builds financial power, scales responsible products and services, and asserts transparency and control in consumer finance.
🌾 Origins (New York/Massachusetts/International) is a platform co-op marketplace for regenerative agriculture goods grown by smallholder farming cooperatives in the Global South.
🏠 THE VILLAGE (Louisiana) is a real estate investment cooperative offering a path to wealth building. Members own and manage developments with the potential to improve our communities and earn a return.
☕ Uncharted Coffee Supply (North Carolina/Florida) is an exclusive roastery, offering limited-edition, ethically-sourced single-origin coffee beans. We're blending culture and coffee to create a unique experience for the conscious consumer. Join them on revolutionizing the coffee industry at unchartedcoffee.com.
Please join Start.coop in celebrating these entrepreneurs. We invite you to learn more about each of the selected businesses and reach out if you have connections or resources that could help accelerate their growth.