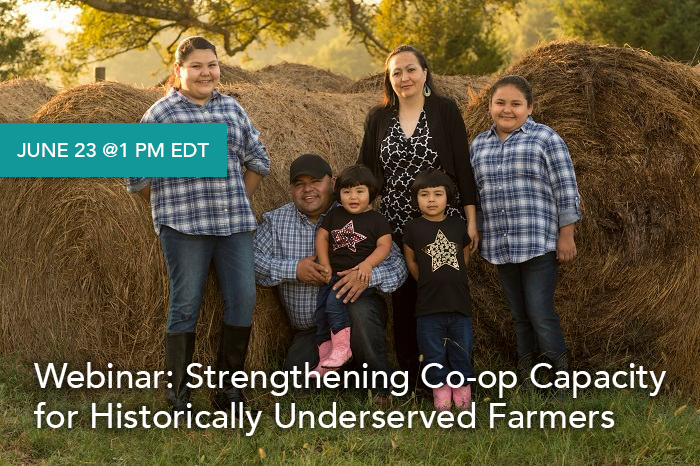 NCBA CLUSA is pleased to announce the speakers for next week's webinar to kick off our U.S. Department of Agriculture (USDA)-funded Strengthening Co-op Capacity for Historically Underserved (HU) Farmers. Joining us on Thursday, June 23 from 1-2 pm EDT are Teia Evans, Project Director of Strengthening Co-op Capacity for HU Farmers; Bernardo Penaherrera, Program Associate for Strengthening Co-op Capacity for HU Farmers; and Camila Piñeiro, Director of NCBA CLUSA's Strengthening Cooperatives and Producer Organizations Practice Area. Learn more about them below.
If you're a cooperative developer, development center or other group interested in using co-ops to empower historically underserved farmers, ranchers, forest landowners and operators, and other agricultural producers, don't miss this opportunity to learn how you can partner with us to build resilience and equity into American agriculture.

As part of USDA's American Rescue Plan Technical Assistance Investment (ARPTAI) Program, Strengthening Co-op Capacity for HU Farmers will create a community-led cooperative development ecosystem to invest in agricultural communities, address their needs and transform America's food systems.
During this webinar, our speakers will introduce the project and outline NCBA CLUSA's plan to work with the cooperative development community to provide technical assistance designed to strengthen local capacity and create opportunities for scaling agricultural production and accessing markets. You'll learn about the scope of work under the project and how your organization can submit a blank purchase agreement to Strengthening Co-op Capacity for HU Farmers. We'll dedicate 20 minutes to Q&A, so bring your questions and don't miss this dynamic conversation.
MEET THE SPEAKERS
Teia Evans
Project Director, USDA Strengthening Co-op Capacity for Historically Underserved Farmers
NCBA CLUSA
Bernardo Penaherrera
Program Associate, USDA Strengthening Co-op Capacity for Historically Underserved Farmers 
NCBA CLUSA
Camila Piñeiro
Director, Strengthening Cooperatives and Producer Organizations Practice Area
NCBA CLUSA