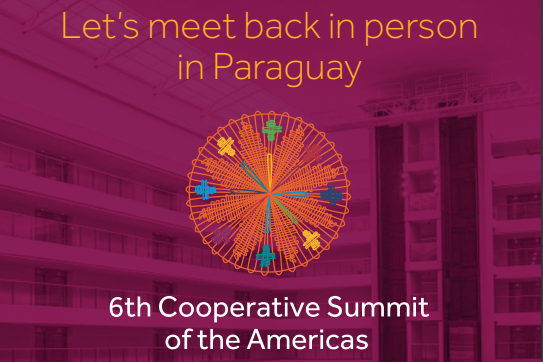 The 6th Cooperative Summit of the Americas will be held from October 24-27 in Asunción, Paraguay, followed immediately by the 8th Continental Congress of Cooperative Law.
This year's summit is an opportunity to highlight the impact and commitment of the American cooperative movement to the broader international community's agenda for recovery post-COVID, climate action and sustainable development.
Organized by Cooperatives of the Americas in partnership with its member organizations from Paraguay, the summit is expected to draw 1,200 attendees for three days of debate and learning. Attendees will amplify current issues, identify advocacy priorities and rally around actions that anchor cooperatives as key actors in the international community.
Marking the first in-person summit in more than two years, this October's event will tackle three topics at the heart of the global cooperative movement: co-op identity; economic reactivation with co-op integration; and sustainability and climate change.
Cooperatives of the Americas has held regional summits since 2009 with the goal of building agreements and political commitments that impact cooperatives and their communities across the Americas.
Virtual and in-person registration options are available.